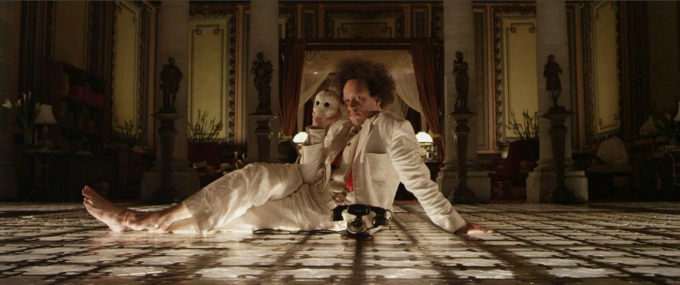 Initially devised as a single feature, but now retrospectively branded as the third in a planned trilogy, EISENSTEIN IN GUANAJUATO chronicles perhaps the most mysterious chapter in the life of Sergei Eisenstein during his time in Mexico, shooting a film he hoped would capture the essence of the country's history. Peter Greenaway's love for Eisenstein's work began at an early age, and his films were a formative part of his cinematic education. More than a mere biopic, Greenaway's admiration for Eisenstein's work and genius doesn't cloud his judgement in delivering a flawed and controversial portrait of the man, dispensing altogether with any depiction of his filmmaking process.

Greenaway's main focus instead is the passionate love affair between Eisenstein (Elmer Back) and his guide, Palomino Canedo (Luis Alberti), to whom he lost his virginity at the age of 33. This intimate portrayal of Eisenstein's secret homosexuality has not sat well with some film boards, the Russian film foundation rejecting Greenaway's request for funding for the subsequent feature. The copious male nudity on display is typical of the director, but the frankness in its use here feels refreshing. The scenes between Eisenstein and Canedo are given space to breath, no soaring orchestral soundtrack accompanying their passionate affair.
Despite the main crux of the film being a deeply personal portrait of Eisenstein's sexuality, Greenaway's striking visuals and theatrical, painterly sets are present in full force, the film delivering an overwhelming feast for the eyes. However, these grand, ornate set pieces do not feel as random and disjointed as those of past Greenaway works. Greenaway himself proposes death to narrative, text-centric cinema, yet the fast-paced witticisms of the dialogue and the depth to which Eisenstein's character is explored are two of the driving forces that make EISENSTEIN IN GUANAJUATO so enjoyable.
…lines of dialogue reverentially lifted from everything from Truffaut to Fellini…
These aspects make the film as watchable for a non-cinephile or someone unfamiliar with Eisenstein and his work as those who are as well-read on the topic as Greenaway himself. There's a similar charm at play as the films of Wes Anderson, the surprisingly rich colour palette and dry humour reminiscent of THE GRAND BUDAPEST HOTEL. That said, Greenaway includes plenty of intellectualisms for the keen-eyed cinephile or academic to pick up on, including historical sight-gags and lines of dialogue reverentially lifted from everything from Truffaut to Fellini.
EISENSTEIN IN GUANAJUATO may have a lighter atmosphere than many of his previous works, but that is not to say that Greenaway's usual dark and devilishly playful sense of humour is absent here. A seriousness and melancholia bubbles away beneath the surface of an entertaining and joyous romp. Like Eisenstein himself, Greenaway himself makes comments about his latest work that suggest abilities as a film theorist in addition to filmmaker. The film is a symmetrical piece, the final shots mirroring the first exactly, timings and all. His unusual use of splitscreen creates a memorable visual experience, and it's fascinating to see established filmmakers such as Greenaway, and Godard with last year's 3D GOODBYE TO LANGUAGE, experimenting with new filmmaking technology, technology that Greenaway hopes will save us from the death of cinema and usher in an exciting new era of filmmaking possibilities.
With EISENSTEIN IN GUANAJUATO, Peter Greenaway may just have perfected his craft, masterfully operating on both macro and micro levels to deliver a spellbinding ode to cinema as well as educating cinephiles on the life of a much overlooked cultural figure. Greenaway, as is the case of much of his work, summarises it best: Eisenstein's film may have been 10 Days That Shook The World, but his time in Mexico, and the topic of Greenaway's film, were 10 Days That Shook Eisenstein.
httpvh://youtu.be/fb364B6u1XE