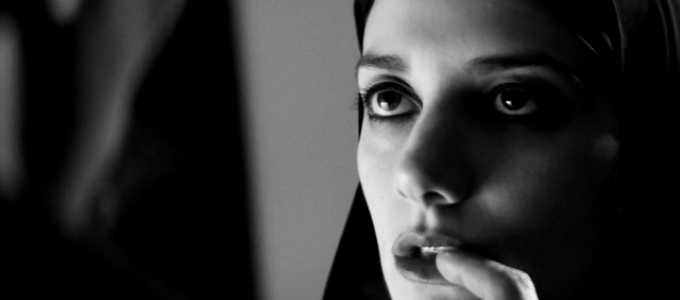 Click here to read this review in Farsi.
The heart of director and writer Ana Lily Amirpour's A GIRL WALKS HOME ALONE AT NIGHT is the title: simple, deliberate, and evocative; a trope up-ended, with results at once gleeful and grisly.
Bordered by a gulch full of dead bodies, Bad City is home to the Girl (Sheila Vand), a vampire who lurks in the shadows, wearing a long black chador, her eyes impossibly wide in her pale face. We never learn her name or history. In fact, all of the characters in GIRL are near-templates: drastic, vivid sketches in black and white, with little background detail to support them. But the story doesn't need background detail. Arash (Arash Marandi) is the son of Hossein (Marshall Manesh), who has become a junkie since the death of his wife. Hossein owes a great deal of money to the local pimp and drug dealer, Saeed, who takes Arash's shining '57 Thunderbird, product of his hard work as handyman to a wealthy family. None of them know it until it's too late, but they are watched by the Girl.
For all the stark rendering, every shadow has nuance. The film's sense of style is timeless: beneath her chador, the Girl wears drainpipe trousers and a loose striped shirt that would have suited Audrey Hepburn or Jean Seberg. Arash has a glossy fifties pompadour to match his beloved car, and no sense of self-preservation when it comes to strange women on dark streets. Where she slaughters others, the Girl protects Arash from his folly. Against the backdrop of Bad City's sparsely populated streets and its industrial landscape of the power station, trains, and oil pumps, a shy, halting, sweetly absurd romance begins.
… a film from the future, or some parallel misandrist world …
The Girl wields a punk-ass disregard for rules and shoulds, which is easy for her, because she can kill and consume those who displease her. She frightens a young boy and takes his skateboard, which becomes her primary method of transportation around town. We see her choosing only to prey on men; she has a candid conversation with prostitute Atti (Mozhan Marno), but does not hurt her. I would have liked to see Atti treated as a narrative parallel to the Girl, but the film shows their differences more than what they have in common, and only one of them has any power. Amirpour has said in interviews that a feminist reading of the film is more indicative of the viewer than of her intentions, but the lack of overt politics makes GIRL what it is: a film from the future, or some parallel misandrist world.
The characters for whom the film has empathy may be weaker than the Girl, but they have rebel hearts. Atti keys Arash's car, thinking it belongs to Saeed. Arash steals diamond earrings from the home of his employers to get his car back, but the Girl kills Saeed and Arash offers the earrings to her as a gift. The Girl is no bringer of moral justice; she is simply more dangerous than the men she kills. In a world where some people (mostly men) do bad things, she sometimes does very bad things to those people.
You know how it's going to end because of the cat. I won't say more, but the cat is everything.
This review appears with thanks to the Gene Siskel Film Center of the School of the Art Institute of Chicago. The Film Center is a long-standing Chicago cultural institution, and shows independent, international, and classic films year round.
httpvh://www.youtube.com/watch?v=_YGmTdo3vuY