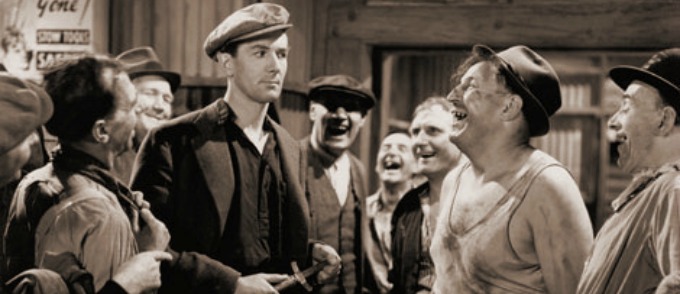 It's always interesting to see how reactions to films can change. Herbert Mason's 1940 A WINDOW IN LONDON begins with a working couple. Pat is a switch-board girl who works nights; Peter is a crane driver who works days. They have no time for one-another! The signpost is clear and simple – "they deserve sympathy!" Seeing extended scenes of the pair walking to work down empty London streets, however, smiling as they go, will likely cause bright green bile to rise within any modern twenty-something, spraying ALIEN-like over the NFT's red velvet seats and freshly pressed info sheet. Those lucky 1940s bastards!
On a rare occasion Peter decides to take the morning train, he notices a murder committed (or so it seems) in the flats across the tracks, and so begins A WINDOW IN LONDON. Upon arriving at the residence, nothing seems amiss. Just a couple of illusionist … you know, doing illusions. The Great Zoltini doesn't tell Peter this, however, instead claiming that he and his wife were considering suicide, due of their dire financial states – Peter's arrival has, in fact, saved their lives! The tall tale leaks to the papers.
Peter becomes romantically involved with Vivienne, Zoltini's assistant and wife. It would appear to be an innocent amour – apart from both are married, and Zoltini is hardly the most well-adjusted clown in the circus. A falling out backstage leads to the lovebirds running off to Peter's crane. The illusionist, however, won't give up so easily.
A WINDOW IN LONDON is part of the BFI's ongoing 'London on Film' series, and through Mason's romantic thriller we see our fair share of the city. Peter and Pat represent working class life. Peter's boys at the dockyard joke and jape with each other and form a kind of "boys-only" coven. Pat's hotel switch-board is the female equivalent; they chatter about their "hubbies" and last night's fun, ignoring as many buzzers as they see fit. Our illusionists form an artistic bourgeoisie. They lament their fallen finances and blame the suits who don't value their "genius" – most of all Max Preston, the canny agent whose roaring, upper-class parties form the theatre of tension for the narrative's final act.
… bag of tricks, pulled with white glove and a showman's flourish.
Amid these social stratospheres is a play of mirrors and morals. Michael Redgrave's Pete is instantly likeable, in a way only Michael Redgrave can achieve. His naïve romance, however, grounds a growing uneasiness. Vivienne appears the perfect damsel. But as the plot progresses, her actions present a much more complex portrait.
Art and theatre preface the frictions to come. A pantomime couple live out a spat on stage as Zoltini and Vivienne tear down their own relationship. The couples' famed vanishing trick leads to a real vanishing, as Vivienne alights with Pete into the London fog. An opening pretence of murder is only going to end one way …
A WINDOW IN LONDON lacks Hitchcockian suspense, but garners much of its contemporary's narrative subtlety. Dramatic twists turn to false notes. Key plot points appear from the simple, mundane and homely. It's never entirely clear what Mason or the producers wish us to feel about their bag of tricks, pulled with white glove and a showman's flourish. In the end, they do little for plot resolution. Is the film itself another case of art and reality? A tease to our misguided thirst for melodrama? After all, as Peter's tabloid reporter proclaims defending his spurious accounts, "London loves a good story".