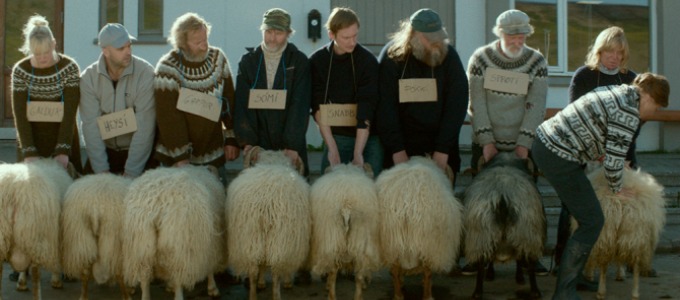 So it's spring, right? It certainly feels like it in this rural part of England – birds singing, blossom bursting, lambs soon to be born.
It's all very pastoral and lovely. It's a time when we think about the natural world, because it's in our faces, but here it's relatively gentle, unlike the raw, desolate and perilous landscape of Iceland where relations between men and beasts can be as intense and dramatic as the stormy weather. Take Benedickt Erlingsson's 2013 gem OF HORSES and MEN – a passionate tale of lust and revenge set in a horse-breeding, binocular-wielding community in rural Iceland. Now director Grímur Hákonarson tells a sheepish story on a similar scale in RAMS, a tragi-comic tale of brotherly hatred set in an isolated valley in Iceland. Brothers Gummi (played by Sigurður Sigurjónsson) and Kiddi (Theodór Júlíusson) have lived at arms' length for 40 years with never a word of affection between them until a life-changing crisis throws them together.
Tuesday's screening to an appreciative (and sizeable) audience at the Cambridge Arts Picturehouse started with an engaging introductory talk by Donna McLuskie from Anglia Ruskin University who suggested potent connections between RAMS and the Icelandic sagas, which document disputes over settlements and violent feuds. Donna described the sagas as stories about how people try to get along with each other, which neatly sums up the story at the heart of RAMS.
Can he really be so calm about losing his beautiful sheep?
Gummi and Kiddi (curiously child-like nicknames in English – maybe not so in Icelandic?) are devoted to their flocks of sheep; the wooly creatures all have names, they're meticulously cared for and loved as any family member would be. But all is not well; the annual autumn competition to find the valley's most magnificent ram leads to a terrible discovery – Kiddi's prize-winner has somehow contracted scrapie, a fatal disease of sheep (and goats) that affects the brain and spinal cord. The remedy is to slaughter the entire flock, disinfect the sheep sheds and impose a two-year ban on sheep farming. Worse still, Gummi is the one who spots the first signs of scrapie. It's a disaster on an epic scale for the valley. How ever will the community survive? Will the brothers slaughter each other or somehow bury the hatchet (but not in each other's heads)?
The brothers react differently to the crisis: Kiddi is an explosive character who turns to drink, but Gummi appears more phlegmatic, agreeing to comply with the required measures, telling one friend 'That's life isn't it'. Can he really be so calm about losing his beautiful sheep, the last few of their breed? Of course the destruction of the animals is devastating for all the farmers and it's horribly reminiscent of the 2001 foot and mouth epidemic in Britain, vividly highlighting the precarious nature of farming. For Kiddi and Gummi it's the catalyst for an instant escalation of the enmity between them. At this stage, we still don't know what has caused them to grow apart. Many long-established feuds have no remembered reason for why they ever began, but for Gummi and Kiddi the memory of the original hurt is all too close to the surface. Once we learn the reason it's clear that their (no doubt unwitting) parents are the source. As so frequently happens in family arguments, it's a small spark that sets off a cataclysmic division between warring sides.
Winter descends and Christmas approaches; the green valley turns to an ice sheet, stormy skies threaten and with no sheep, people are bored. As Kiddi's drinking pushes him closer to the edge, Gummi hatches a secret plan that certainly won't be revealed here, but it's a plan that will make or break them both. There are plenty of comic moments – on one occasion, Gummi finds Kiddi drunk and unconscious in the snow, in the absence of a more suitable vehicle he scoops up Kiddi in the bucket of his farm digger and dumps him at the door of the hospital in town. Occasionally relations between them appear to be ready to thaw, but freeze over again at the slightest hint of provocation. Everybody knows that although the brothers live next door to each other, they may as well live a thousand miles apart.
RAMS is a quiet, not very wordy film, which allows us time to think about the emotional landscape within. It tells of the epic struggle between two people who need a drama to crack the ice between them. But this isn't a cold film; it's wittily told, poignant and warm-hearted, without a trace of sentimentality. The soundscape is remarkable – used sparsely except when real power is needed as it is in the final scenes. Atli Örvarsson's effective, minimalist score also occurs sparingly, adding depth and atmosphere rather than overtly directing the audience's emotions. Sturla Brandth Grøvlen's unhurried cinematography lingers over the landscape, allowing it to live and breathe on the screen. All these elements work to build tension towards a terrifyingly stormy climax that pulls together man, beast and elements. Do they kiss and make up? Is it all going to be happy ever after in the valley? You'll have to see it yourself to find out.
httpvh://youtu.be/SWOFWaltGRw