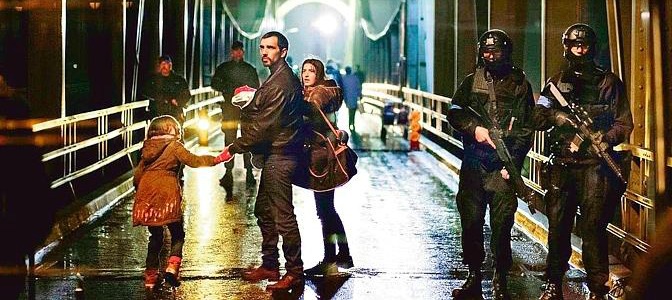 A dark, mysterious storm cloud appears over Switzerland, threatening its residents with an apocalyptic storm that will not go beyond their borders. For the creators of Wonderland (or Heimatland, as originally titled), this experimental science fiction project is an opportunity to portray fraught political tensions in a seemingly neutral country.
Wonderland is a collaboration project, a production from ten Swiss directors who each take control of their own mini-story. All stories are underpinned by the central premise of a catastrophic storm, looming in the background, itself is a secondary, continually ominous character. No one understands where the storm has come from, or just quite how much devastation it will cause, but the tension is palpable amongst every character depicted: be it the two sisters left alone without their parents, or the supermarket worker who aggressively attacks a customer. The difficulty of Wonderland comes in the unenviable task of joining the dots, connecting all these mini-stories in a seamless fashion. The general principle of fear and tension unites the ten filmmakers' ideas, allowing for an anxious mix of stories that combine languages, cultures and experiences. There is great clarity in the film's overall vision, underlined by fear as the common denominator – for French and German, young and old, immigrant and nationalist.
Unfortunately, the multitude of stories and perspectives do give a slightly disjointed feel. Certain plots appear in an almost haphazard fashion, with distracting developments that detract from the overall narrative. Other plots are clearly the frontrunners, and are thus given more attention. Some of the more poignant stories come from a police officer, racked with guilt for killing a Nigerian while on duty, or a far-right nationalist group insistent on protecting their own. In a climate where police brutality and a rise in nationalism are under increased scrutiny, these stories resonate beyond Swiss borders. Resonating even more strongly is the notion that many Swiss residents, faced with an emergency in their home country, distressingly choose to leave. They are faced with fierce border patrols, and the possibility that the European Union has closed its doors. Considering the current refugee crisis, it is an affecting plot point, cleverly and sensitively handled by the filmmakers.
Illustrated skilfully by the films three cinematographers, the inconsistencies in storytelling are almost disguised by the consistency of the film's style, which does well to convey the overall sense of foreboding and internal – as well as external – catastrophes. The storm clouds themselves are impressively realised, considering the film's limited budget, with remarkable visuals throughout. As a cinematic project with an interesting concept, Wonderland is a disaster story with a distinct political edge. At its best, it is a unique effort at political commentary, communicated effectively within the science fiction narrative. It loses its way with some of the incoherent storytelling, but this does not mean that the political narrative loses its resonance. Perhaps with tighter narrative control these ten stories could fit together more seamlessly, however there is still plenty to be admired from the overall efforts of the filmmakers, who combine a number of challenging stories viewpoints along a tense, apocalyptic thread.
httpvh://youtu.be/G09jCmDxM3k