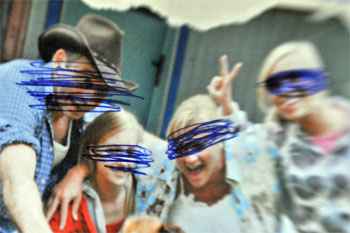 Known to us as LOSING BALANCE, Felix Fuchssteiner's DRAUßEN AM SEE translates literally as "out on the lake".  Although the story focusses on Jessika (portrayed by young newcomer and Scarlett Johanssen lookalike Elisa Schlott), her mother and father (Petra Kleinert and Michael Lott) are the heart and soul of the film. 
Blame the parents!  DRAUßEN AM SEE is their story.  This is an examination of self harm – not just in the context of angsty adolescence.  The leading actors all share a background in popular German television, and writer and director Fuchssteiner's latest foray showcases some seriously impressive, raw and versatile talent.  Powerful themes of familial trauma, of a type that soap operas gleefully exploit, are handled by Fuchssteiner with remarkable integrity, wit, realism and restraint.
DRAUßEN AM SEE defies expectation.   The story is profoundly affecting but never melodramatic; moving but never mawkish; clever but never cliched.  The charming, quirky family slowly drifts apart at their lakeside retreat, and the catalyst is simply (and topically) financial.  The dissolution of the four comes about not for want of love, but for want of understanding.  With the possible exception of Jessika's strong-willed sister Caro, each family member is caught up in their own personal turmoil – and they are all striving to protect one another by concealing their respective crises and keeping up appearances.  This is only Fuchssteiner's second film, following his intriguing DIE KURVE; this fresh and hungry talent has set himself a high standard which he will no doubt sustain and develop.