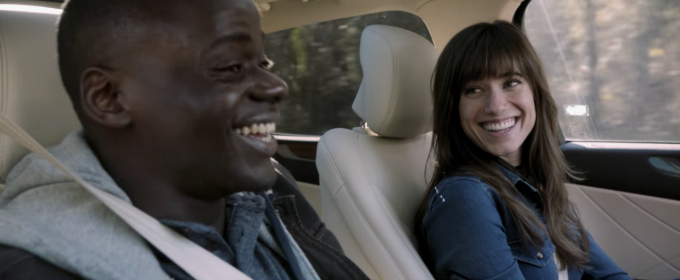 Jordan Peele's first feature as director is a confident step away from his previous television exploits: Mad TV (2002) and Key & Peele (2012), throwing off his sketch-show jacket and donning a more provocative and thoughtful attire. While still holding on to his satirical voice, Peele allows the film to linger within the fringes of recognisable genres but, if forced to decide where to place it, GET OUT has definitely created a home for itself as a horror film.
British actor Daniel Kaluuya gives a solid performance as young photographer Chris Washington, who's about to embark on the most nerve-wracking adventure of any new relationship: meeting the parents. "Do they know I'm black?" he asks his girlfriend, Rose (Allison Williams) who works to ease his concerns of the initial reception he may receive. Rose, an ostensibly liberal, young white woman, seems to focus much more on Chris' race than seems comfortable at times, and polices it on his behalf.
Chris' anxieties are alleviated when he is greeted by a very unassuming and welcoming Dean (Bradley Whitford) and Missy Armitage (Catherine Keener). From the moment Chris arrives, the scenes are peppered with cringe-worthy moments: A family friend boasting to him: "I do know Tiger" and Dean explaining how he'd vote for Obama for a third term if he could. Initially this could be disregarded as a bunch of middle-class, semi-enlightened white people trying their best to make Chris feel welcome, but Peele wants the audience to look deeper and not to merely accept those awkward moments as "typical" and things that "just happen."
It's not long before Chris clocks the family's slightly odd pair of hired helpers, Walter (Marcus Henderson) and Georgina (Betty Gabriel), both African American. Their every move seems pre-coordinated, their eyes glazed and smiles fixed. The feel of the film spirals quickly into much darker territory with the introduction of Rose's creepy brother, Jeremy (Caleb Landry Jones) over an odd family dinner. The dinner culminates with Missy's offer to help Chris stop smoking, which subsequently turns into a session where Chris finds himself paralysed and falling into the darkness of what Missy calls "the sunken place."
What results is a character literally fighting to save his own skin, with the horror elements coming to full fruition in the last thirty or so minutes of the film (greatly enhanced by a pair of deer antlers being used as a murder weapon). GET OUT shares a similar sense of dread with David Robert Mitchell's IT FOLLOWS (2015): as the horror that will eventually befall Chris lies in wait. Also reminiscent of Charlie Brooker's Black Mirror series (in which Kaluuya also appears) which shares a combination of witty and provocative storytelling that allows audiences to question the societal issues that are often glossed over or accepted as normal.
The humour is consistently organic to the plot and Peele's comedic background has served him well here. GET OUT is arguably the best horror film this year so far, not only because of its themes and purposeful prodding of an issue so easily avoided, but in its success at twisting the horror genre into something more original and relevant. Peele has created a fiery response to questions surrounding a post-racial culture, with a satirical but thoughtful telling of white hegemony and racism in a supposedly "liberal" society.