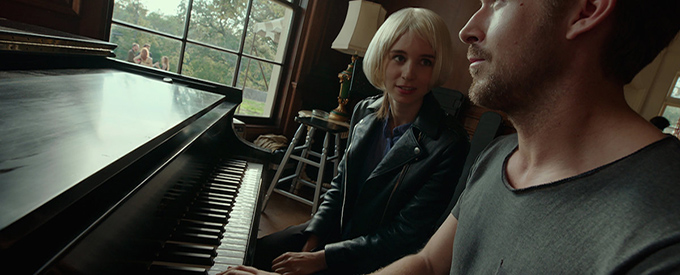 You wait so long for a Terrence Malick film then they all start coming along at once. Long in gestation, following hot on the heels of THE TREE OF LIFE, KNIGHT OF CUPS and TO THE WONDER is the Austin music scene drama SONG TO SONG. Although beautiful and maintaining a weird momentum throughout, Malick's ethereal and dreamlike approach to storytelling may finally be wearing a little thin.
The closest thing we have to a coherent plot is a love triangle between Faye (Rooney Mara), a jobbing musician who becomes involved with BV (Ryan Gosling), who seems to be on the fringes of breaking out with a record deal. The man behind that endeavour is sleazy producer Cook (Michael Fassbender), who maintains a more cold and sterile sexual relationship with Faye. A star-heavy cast round out the bill including Natalie Portman as Fassbender's new wife, Holly Hunter as her mother, as well as Cate Blanchett and Bérénice Marlohe as the new partners taken by Faye and BV during their extended estrangement.
Throughout Malick's recent work it's never been fully apparent what his approach to storytelling actually is. His visual language is compelling, but the actual dialogue is mumbled and opaque. It is hard to escape the feeling that from THE TREE OF LIFE onwards, the most attractive element to his work comes from someone else: cinematographer and constant collaborator Emmanuel Lubezki.


It is hard to escape the feeling that […] the most attractive element to his work comes from someone else: cinematographer and constant collaborator Emmanuel Lubezki.
Although his eye for an image is obviously sharp, perhaps unsurpassed, the impact seems to come from those who capture the images for him – whether Lubezki (who, lest it be forgotten, can also add to his resume with successive Oscars for GRAVITY, BIRDMAN and THE REVENANT across this same period) or the cosmic images created by the legendary Douglas Trumbull for THE TREE OF LIFE.
Unfortunately, the roles afforded those who make the cut (Christian Bale and Benicio Del Toro amongst those trimmed this time) merely seem to recall more coherent films. Fassbender's sex-driven existence evokes his role in Steve McQueen's SHAME. Gosling's role as a budding musician recalls the sugary, if surprisingly good LA LA LAND. Even Holly Hunter – given short shrift as a distraught mother – plays a similar role to much greater effect in a film at the very same film festival as the UK premiere.
Having said this, maybe given the prominence of music in the story, this is probably the best soundtrack of this recent batch of work from Malick, swinging between genres and tempos in a way that feels more well considered than the actual script itself. Without any backup from the script, however, as wonderful as the images are and the music is, the overall film is like an MP3 player on shuffle, not a well-crafted LP.
Much like its recent siblings, SONG TO SONG seems to exist in something of a dreamlike structure, never clear whether what we see is happening, is a memory or a vision or some combination of all of them. The thing about dreams, though, is that although it's easy to recall some of the wonderful imagery or fantastic scenes days later, the actual lyrical substance loses all its glamour on awakening, when it soon fades into empty dreamland gibberish.