DOGGED is the first film written and directed by Jo Shaw. It won the Best Experimental Film award for its 'intriguing and insightful' take on the genre.
DOGGED's overw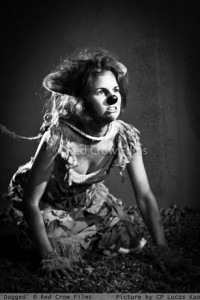 helming strength is its simplicity, and paradoxically its inability to be fully grasped or comprehended in one viewing. DOGGED recreates a world where bogeymen roam freely and the only creatures they fear are dogs. Thus the value of dogs has increased, and they have become rare, some people keeping 'mock dogs' which afford protection.
Over the course of nine minutes, director Jo Shaw creates a neatly perverse and anomalous world with its own logic, time structure and laws of nature. In approaching the task of creating a short film which touches on a subject as esoteric as the human condition, Shaw displays great humour and originality.  Her thoughtful and creative aesthetic solution is ribald and entertaining, and its appeal is not restricted to the cinephile. Using split screen to expand time and space within her gratifyingly warped world, Shaw uses the original cinematic language of silent movies to breathe sound and life in to her creation.
Lucy Goldie plays all the different nine characters – recognisable archetypes sublimely recreated in expressionist make-up and the costumes of BAFTA nominee Grace Chang. The characterisations are well choreographed and executed, giving subtleties and humanity to monsters and animals where many would've resorted to caricature. The use of stop-motion helps the feeling of other-worldliness along and adds to the appeal of Shaw's fantasy landscape.
Repeated cycles of human behaviour and the lasting damage they can bring upon the bearer are exemplified here in the character of Oldman, and through the piano score of Karis Stretton. Communication failure and authenticity of one's own voice are identified as themes key to progression. Moving away from the fetters of these cycles of behaviour brings transformative effects. Although Dogged is not executed perfectly in every way, what is undeniable is that Jo Shaw has found her authentic voice and a filmic vision which takes to its heart a love of cinema – both its creative challenges and its potential – and stays with you long after viewing, calling you back to visit its strange world again.
DOGGED was awarded Best Film at the Aesthetica Short Film Festival.
Feature image (c) Lucas Kao at Red Crow Films