At the Q&A after the opening night screening of TOMBOY, director Céline Sciamma described the simple initial idea for her film as 'a little girl pretends to be a little boy'. It sounds like a great premise for a short film, but all the emotional complexities and sweet humour in such a situation in fact sustain a beautiful feature film.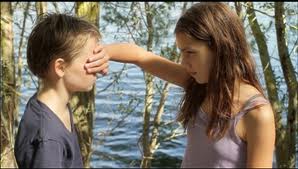 Sciamma wrote as well as directed the film, and her strong screenplay is complemented by the child actors' improvisation. Zoé Héran is perfectly cast as the tomboy protagonist, with a prepubescent androgyny that makes the charade completely convincing to both the other characters and the audience. Malonn Lévana was also a great find as her little sister, adding much of the humour that makes TOMBOY such a sweet film. There are many memorable scenes, particularly between these sisters, which often simply depict everyday activities and games of children, but they are improvised and shot to create tender moments.
The style of compassionate observation is reminiscent of Treeless Mountain (So Yong Kim, 2008), another quiet sensory portrait of two young sisters' relationship. TOMBOY pulls you into a child's world, so you can even almost smell the bubblegum that the kids are chewing in a game of truth or dare. But the film captures experiences not unique to childhood, like awkwardness in budding relationships, or anxiety created by a lie that's got out of hand. With the writing and production of the film completed in just three months on a low budget, this is a particularly impressive achievement.
CH: What inspired your film Tomboy?
CS: It's not based on a true story, it's not my story. But when you're writing about childhood you have to look back, in your memories to get back that feeling, how it felt. Not in a nostalgic way, but really in the present. The movie is really impressionist about childhood, trying to get back those sensations and those feelings. And I was kind of a tomboy… I was mistaken for a boy sometimes and I remember that sometimes I liked it. I remember the freedom that gave me. So I had that story in mind of a little girl pretending to be a little boy. And I decided that would be my film because I felt there was a good balance… I'm always looking for the right balance of a cool subject with an intimate insight, and also with a strong storytelling. I kind of built it like a thriller, like an insider movie. And so there was those two things that convinced me to go for it.
We invent ourselves everyday when we are children. So that's a way for the movie to be really open, for everybody to connect.
The premise of the film brings up a lot of interesting themes. What would you say the main themes of the film are?
Well there's the gender issues and there's also just a portrait of childhood. That's why I felt it was interesting to bring the sexual identity issue at the time of childhood, because it's a moment where you can choose this, you can choose to play, and you won't be looked at and you won't be judged the same way. I feel like it's a moment in life where everybody plays to be like, for an afternoon, I'm somebody else. We invent ourselves everyday when we are children. So that's a way for the movie to be really open, for everybody to connect. It's really a portrait of childhood, that's the kind of feedback I've been having. The boys, the men, the former boys, they really identify with the girls character. So the movie has many layers like that.
And your previous feature film, Water Lilies, was about childhood as well, wasn't it?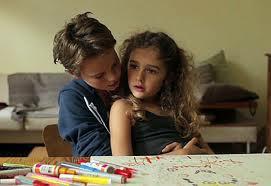 It was about teenagers, which is really not the same, but it's about youth. In the process of making the film, it's really not the same working with teenagers and working with children.
Did you find it difficult working with children?
Yeah. [laughs]
Because I read some reviews and a lot of them commented on the naturalistic performances that you got out of the kids, so how did you manage that?
Well it's a tricky thing. It's two things, it's quite a paradox actually. It's getting them committed, telling them the whole plot, the whole story. Talking to them like you're talking to any actor, so asking for commitment, asking for work, asking for focusing and always bringing up the character's journey, the character's goal, like with any actor. And in the meantime, it's also making it a big game, cos children shouldn't be working, you know, that don't know what working is. So you have to make them forget there's a camera, they keep looking at it! You have to give them the space and the trust, it's kind of a method. I shot very long takes, like ten to twelve minute takes, and I would always talk to them and go into the frame, and there were no boundaries. And you could do some impro.
Some French movies are very French and can be sold all over the world because they're very French, they have that French taste. I don't think this one works like that.
And I was also interested in whether you think the story is particularly French, or is it more universal about childhood and those themes?
No, I don't think it's particularly French. Actually, the movie's been sold in like thirty countries, it's kind of huge. Some French movies are very French and can be sold all over the world because they're very French, they have that French taste. I don't think this one works like that. … There's a very strong tradition of coming-of-age stories in France, but there's also a very strong tradition of coming-of-age stories in the US, and I like to think I'm in the middle of those two traditions, I like to mix things a little bit. I like to get that strong sense of intimacy, caring for the details like in the French tradition… but taking the stylization, the pop flavour, from the Americans.
I was going to ask you about that too, because I saw in a previous interview you said you like Gus van Sant and Larry Clark, those American filmmakers, so how do you think their work influences your own?
Well in that sense, the way they're stylized and the way that they have their own universe, even though it seems like it's real. I like when it's blurry like that. When he's doing Elephant he's really portraying the youth of today, but he brings this colour, this style that is like his own world.
How have audiences responded to the film so far?
It's been a great hit at the box office in France, I'm still amazed. It was the word-of-mouth. It became a family film, parents were taking their kids – it's not a movie I made for children but I was really hoping they were going to get to see it. And now it's even going to be the school programs, for primary school and high school. Politically, that's really cool.
What about festival audiences? Has it played at a lot of festivals and do those audiences respond differently?
I haven't been to a lot of festivals. Mostly I remember Berlin because it was like the birth of the film, it was the first time it had been shown and it was the best place to show it because they have a strong appetite for cinema and they have this queer feeling everywhere that suited the movie at the time.
You'll see, the movie's not about psychology, it's not about why she's doing this, it's about how she's doing this.
Who is the ideal audience for the film? Is it targeted more toward a queer audience?
No. It's really not targeted at queer audiences but I really hope it gets to queer audiences. That's how I built the movie, I really want it to be really open. You'll see, the movie's not about psychology, it's not about why she's doing this, it's about how she's doing this. So everybody can relate, very different people come to me and say 'oh that's my childhood!' So that's the way to also be political, to talk about queerness is to seduce a very wide audience with such subjects.
Is it true that you made the movie in just three months? How did you achieve that?
I don't know! Yeah I wanted to do it that way, I wanted to make a movie very fast. So I wrote it in like three weeks, I did the casting in three weeks, and I shot it in 20 days, so then the process of making the film took more than 3 months, the editing and stuff, but between writing and shooting there was three months. But it was planned – I wrote it so it could fit a low budget and be done really fast.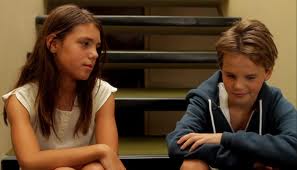 Was it difficult to find the funding for this film? How was the film funded?
We went to see the TV channels, the broadcasting people, and we didn't really have the time to go to public funding because we weren't in the right dates, because we were going too fast. We gathered just enough money to shoot at first, and then we went through a more classic journey of getting the money but the film was already shot.
Can you tell me a little bit about how you got started in filmmaking, and about your earlier projects?
I did film school, the national film school in France, in the screenwriting course. And then I wrote my first original script at school, it was Water Lilies, and then I got out and met some producers and they said let's do it. So a year after I got out of school I was shooting my first movie, which was crazy because I didn't really intend to shoot it, I wrote it, I wanted to be a screenwriter, I thought I wanted to be a screenwriter. Everything went really fast because the movie was really successful, it went to Cannes, got a good release and good reviews and so that was it. And then there's four years between Water Lilies and Tomboy and it's because I still want to be a screenwriter and work for other directors and work for TV and so I've been writing a lot, and I think that's what I'll go back to doing right now after this one.
What is your next project? Do you have any plans to direct another movie?
I have to write before I direct it, so I guess it's back to writing. I won't do a new film like that, that fast, I think I want to take the time and write for a long period of time. I don't have the idea yet, but I'm really interested in TV series too, so maybe I'll try to write my own.
Claire Henry