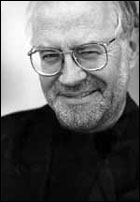 Jos Stelling: filmmaker, cinema owner, visionary. At the age of seven he was given a projector and started to show films to children in the neighbourhood, developing a profound passion for film. He spent all of his spare time filming with an 8mm camera, and after 10 years experimentation began his first feature. Released in 1974, MARIKEN VAN NIEUMEGHEN – ultimately a collaboration with 800 people – was selected for the Official Competition of the Cannes Film Festival. No film from the Netherlands has received this honour since. His subsequent features have followed a unique and often bizarre vision.
Although popular on the festival circuit, none of his films have achieved distribution in the UK. Jos Stelling was a special guest at the Cambridge Film Festival 2011, and Dorian Stone had the opportunity to interview him. The transcript follows.
DS: How many of your films are influenced by Dutch culture?
JS: Holland is more or less a Protestant country, and I was in the Internat boys' school for more than eight years, but with French priests. And they didn't touch me at all. That's not a problem.  I'm the only one they didn't touch.  They gave me other problems, but that's something else.  And then, they didn't speak my language – they speak French.  And we had no literature or that kind of thing, no, we had films.  All the Italian films, the French films, and this was my biggest starting point in Holland for doing those kind of things – Italian neorealism.  And that was my starting point. Especially for the reason that in Italian movies they didn't use actors, they used all normal people telling a story via the camera rather than via the film.
That's what I like of film making.  To do something more than you can do by yourself.
What attracts you to a particular subject – and would you say you have any recurring themes?
They are all more or less very personal.  The first idea is always two strong, opposite things, like the devil and a beautiful girl, for instance.  Then I fill the strong magnetic field between the two things and I start to think and work, and from a certain moment you can't go back.  You have to finish it or you are starting to be frustrated.  And it takes you some years, and I like the process of filming very much.  Because you need a very strong starting point if you know that you have to work on it for two years, and I never know the end.  I only start building, building during the years, and bringing people together,  and they help me, they are all better than me, and then that's growing and growing above my head.  That's what I like of film making.  To do something more than you can do by yourself.
Would you say you have a good relationship with film critics?
Yes.  They are very important for film culture.  They are a sort of standard.  But nobody's writing about films.  You need a sort of mirror – but you have good critics and bad critics.  But I don't like opinions.  I think the most important question for a film critic is to know what the film maker wants, and then they have to sort of make a conclusion if he is successful in that or not.  You need two things to prepare.  […] You need good film journalists.  It's the basis of the culture.
Would you say you leave the conclusions up to the audience?
The film is 50% of the whole experience.  The other 50% is the public.  And the basic of film is that kind of thing.  Without the public, there's no film, it's only some stupid images on the wall.