Congratulations to Paddy Considine, whose directorial debut TYRANNOSAUR has recently won awards at Sundance as well as the Moët British Independent Film Awards.
At Moët BIFA yesterday, the film was awarded with trophies for Best British Independent Film, Best Actress and The Douglas Hickox Award for Best Debut Director. At Sundance TYRANNOSAUR won the World Cinema Directing Award: Dramatic Award for World Cinema Dramatic Directing. Olivia Colman and Peter Mullan were awarded The World Cinema Special Jury Prizes: Dramatic for Breakout Performances for their roles.
Ferry Hunt spoke to Paddy earlier this year.
Ferry Hunt: With DOG ALTOGETHER, what w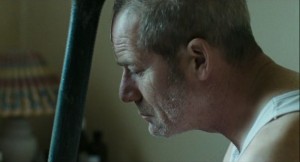 as missing from that, that was vital, that you thought needed re-telling for the new film?
Paddy Considine: I just think that DOG ALTOGETHER was the beginning of a bigger film, and even though I didn't realise that at the time that I wrote it […] this story blasted out of me in a couple of hours and I was so – really at a sort of desperate point with it all – I was doing this job, and I was in Spain and I was away from home, and I wasn't connecting very well, and I just thought, "something's got to give" and I went to my hotel room and I wrote DOG ALTOGETHER  that just blasted through.
I wasn't totally happy with the way that DOG ALTOGETHER looked, it was actually that that I was trying to get away from in TYRANNOSAUR.
I thought "If I'm going to direct I've got to prove it in some way. I've got to be able to stop the talk and just get on with it.  So we raised our money and went and did DOG ALTOGETHER.  My only brief – I didn't think about how I wanted it to look, really – the only thing I'd set myself was "Can you tell a narrative that's engaging in fifteen minutes?".  So really, although it was the first expression in a way, it was the narrative route for this one.  And that's what happened with it, and then after DOG ALTOGETHER I'd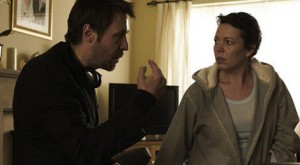 written another short for Olivia's character and then I got too many responses from people going "What happens to these characters?"  It felt like the beginning of something and it really was, so I just went away and carried on writing from that point.
I didn't want it to be aesthetically the same film, I wasn't totally happy with the way that DOG ALTOGETHER looked
Although we told DOG ALTOGETHER in TYRANNOSAUR because I didn't want it to be aesthetically the same film, I wasn't totally happy with the way that DOG ALTOGETHER looked, it was actually that that I was trying to get away from in TYRANNOSAUR.  I didn't want hand-held, I didn't want any of that business, I wanted really structured frames and performance to make it look like cinema as we know it, as a big format, as opposed to this style we've got so used to, those bloody films with cameras all over the place, docu-style and improvisation – I want to make cinema, I didn't want any of that.  And it just sort of developed out of that, became TYRANNOSAUR.  I just went off and wrote it in about a week.  And strangely – writing's a weird one, if you let them do the job and not you, they'll tell the story for you.
FH: Because you didn't change the actors.  You needed Peter (Mullan) to play that part.  Could anyone else have played it?
PC: Nobody else could have played it.  When I wrote the short, I just said, "I want Peter Mullan".  And then he did it.  And there was a point where I wasn't going to get him for the feature film, and I just said "Oh, I'll wait for you, then, I'll wait a year."  And luckily, we didn't have to – it worked out, the scheduling thing […] I thought of everybody, and nobody embodies what he's got, you know.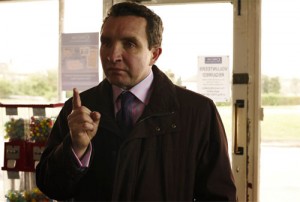 FH: Why did you choose to shoot the film in Leeds?
PC: I just wanted to take away from that Midlands terrain, you know, and I thought because we shot DOG ALTOGETHER in Glasgow, I thought we'd be back up there, but we didn't get any money from there, […] so I felt that I didn't want to shoot it around the midlands, I had to break away from all that stuff sort of find  your own place to stick your flag in, and it worked really well.  We were looking at Bradford first but the people there wouldn't let us shoot, which was a blessing because on the first day of going out and looking at locations we found Joseph's house and Samuel's flat, and it's a great place to shoot and I'd shoot there again.  I've gone there twice now on films, with RED RIDING and TYRANNOSAUR – it's a great city and it was perfect for this.
FH: What's the hardest part that you've played?  Was it in A Room for Romeo Brass?
PC: That was the first time I'd ever acted, and strangely enough, these characters give you the energy – and you've got to remember, too, that one of my best friends (Shane Meadows) was the director, and all I was doing was amusing him, so I'm doing this gypsy character thing, and Shane found it dead amusing, so because it made people laugh, I just stayed in character all day.  And that's the strange thing about film – because you see such brutal moments, you don't see the bits in between where we're all falling around laughing.