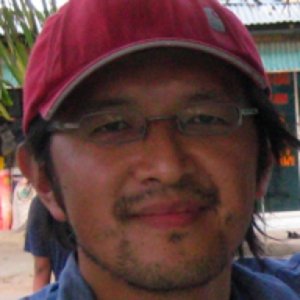 Ozzie Yue was one of our special guests, along with Jennifer Lim, at Cambridge Film Festival last year (read our Q&A transcript here). Earlier this year, Ozzie starred in Lab Ky Mo's 3 MILE RADIUS, part of a set of four British Chinese shorts that were commissioned by BBC Writers' Room and B3 Media in conjunction with Cinéaste. I spoke to Lab about his stylistic influences and also about the typecasting of Eastern actors, an issue which Ozzie had spoken about passionately at the festival.
… I hate it when filmmakers make films about making films …
Rosy Hunt: The cinematography in 3 MILE RADIUS reminds me of Jim Jarmusch, maybe MYSTERY TRAIN – or of early Hal Hartley. Are you a fan of either of those directors – and in any case, who would you say are your influences as a director and story teller?
Lab Ky Mo: Very astute – Jim Jarmusch is one of my favourite filmmakers and MYSTERY TRAIN is my favourite film of his.  I like his humour and his quirky characters, and most of all, I liked his flat perspectives when people walk across the screen in wide shots; you can probably see some of this in 3 MILE RADIUS.  Most of all, however, my film is probably inspired by Jim Jarmusch's counterpart and friend, Wim Wenders – PARIS TEXAS is probably my favourite film of all time, and incidentally both Jarmusch and Wenders shared the same cameraman – again, my favourite – Robby Muller.
RH: How did you meet Ozzie? His performance reminded me of John Hurt.
LKM: I've known of Ozzie on the circuit for some time now but have never had an opportunity to work with him before.  3 MILE RADIUS was originally set in London; however, when BBC Writersroom found out that the story was actually based on my Liverpudlian Uncle who had 2 families – a Chinese family in Belfast, and an English one in Liverpool – they suggested I locate the film in Liverpool.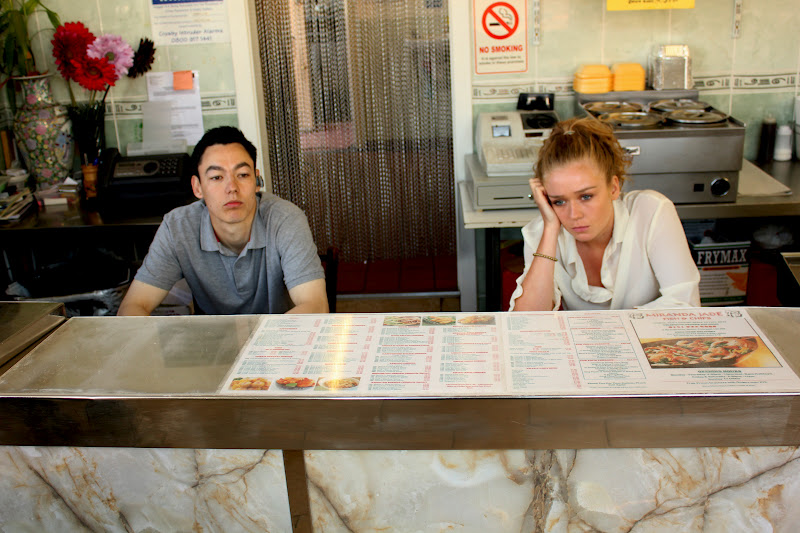 It was great then to be able to work with a genuine Chinese-Liverpudlian actor (my parents actually stopped off in Liverpool when they first arrived in the country).  Ozzie and I concentrated on the stillness of the character, which is largely characteristic of a lot of the older Chinese generation and is very important to me.
RH: One thing Ozzie talked about at Cambridge Film Festival 2011 was the way that he and other Chinese performers are often typecast in film and television. Jennifer Lim agreed. Not in any way accusing you of typecasting with 3 MILE RADIUS, how do you feel about this issue?
LKM: My parents worked in a Chinese takeaway in Northern Ireland their entire lives.  And although they sent me to a middle-class school, it is my memory of growing up around the Chinese takeaway that has stuck.  My adult life is pretty mundane in comparison (I hate it when filmmakers make films about making films) so I guess I see my childhood upbringing as my USP – my unique selling point – and have tirelessly mined it for the material for various films.
 I didn't have to do any work with the two leads – they were all there – all colour and sparkling energy!
Interestingly, the actress who played Ozzie's Chinese wife in the film, asked me the same question – outside of acting, she is a successful businesswoman – why didn't I make films about people like her – successful businesswomen.  I think the answer to that, is the question of drama.  I will make any film or story where there is enough drama.
RH: The two female leads were very good. What was your directorial style – did you work hard to achieve such subtle performances?
LKM: Both the 2 female leads – Crissy Rock and Abby Imogen Mavers – are from Liverpool, and although they are at opposing ends of their careers (Abby at the beginning of hers) they both possess very similar acting styles – which I might describe as pure Liverpudlian spunk!   I'm so grateful that the BBC suggested that I shoot the film in Liverpool, as Liverpool is not too dissimilar to Northern Ireland where I grew up; the locals are colourful.  I didn't have to do any work with the two leads – they were all there – all colour and sparkling energy!  Abby especially is a dream on the screen; she is just so interesting to look at; she was an absolute pleasure to edit!
RH: How did you choose the locations?
LKM: I searched for a very specific look – generally fairly bland locations in barren, or equally bland surroundings – which conversely always ends up looking quite cinematic.  The reason for this is due to my memory of working in my parent's takeaways which were always located in the most dismal, dreary, slightly-rundown parts of town.  In my choice of locations, I was again influenced by Wim Wenders – the final location with the red-boarded windows is something he would've liked!
RH: So what are you working on at the moment?
LKM: One of my current projects is a film called THE BRUCE LEE BOY – it's about a Chinese boy in Scotland who is told by his mother that his dad was Bruce Lee.  When the boy hears of a Bruce Lee Convention at the Birmingham NEC he runs away from home to travel down the country to try and find Bruce Lee whom he believes to be his dad.
My Dad the Communist (2009) Clip from Michael Berliner on Vimeo.
Lab's film MY DAD THE COMMUNIST won the Audience Award at the East End Film Festival.
Visit Lab's webpage to see his showreel and further information.