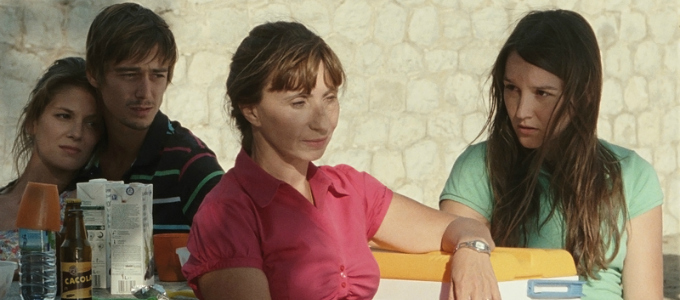 Cambridge twinned with Marseille? Not officially, it's that place with the odd name on the board on Castle Hill that nobody can remember in pub quizzes (Szeged in Hungary). But in introducing his film at the Festival, director Robert Guediguian was keen to salute Cambridge as "the birthplace of Marxism" and the home of political discourse – and THE SNOWS OF KILIMINJARO too is vibrant with political argument, opening with a dramatic scene which (as we immediately suspect) will have far-reaching consequences for families working in the Marseille shipyards.
Here, trade union official Michel (Jean-Pierre Darrousin) is conducting a ballot: twenty workers must go to help keep the yard open. In the interests of fairness he's put his own name in, to the dismay of his great comrade Raoul (Gerard Meylan) and naturally enough his name comes out. Looking on the bright side, Michel sees it as an opportunity to retire in comfort and see more of his put-upon carer wife Marie-Claire (Ariane Ascaride), and his children and grandchildren. Not everyone among the twenty can look forward to such a secure future, though, and the aftermath of the ballot includes a brutal armed robbery in which Michel and Marie-Claire lose everything.
… in a Shavian way his characters remain mouthpieces for opposing points of view …
Everything material that is: their cash and the holiday to Africa (hence Kilimanjaro) that the family has paid for. But they still have their comfortable lifestyle, even if does involve the couple delivering free-sheets, and Michel's questioning of their values and his and Marie-Claire's attitude towards the hapless perpetrator and his dysfunctional family drives the rest of the story towards its satisfactory if unlikely conclusion.
There's no doubting Guediguian's expertise in realizing this slice of Marseille life, but in a Shavian way his characters remain mouthpieces for opposing points of view, in particular Christophe (Gregoire Leprince-Ringuet), the perpetual loser who sours the predominantly feelgood tone of the denouement. But in getting there, THE SNOWS OF KILIMANJARO gives us believable scenes of beautifully acted family life, which French cinema, however bourgeois, somehow manages to achieve without apparent effort.

THE SNOWS OF KILIMANJARO screens again today, Friday 14th September at 12.30pm.

httpvh://youtu.be/U0HTlOt4Hho