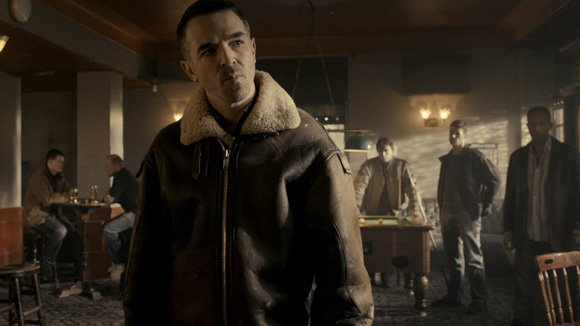 There was a time, around ten years ago, when hearts collectively sank at the prospect of watching yet another British gangster film. Back then, the UK film industry seemed to consist entirely of cheap imitations of Guy Ritchie's LOCK, STOCK AND TWO SMOKING BARRELS: cockney criminals and violent dodgy dealings reigned supreme until audiences were thoroughly sick of them. It's a brave man who would dare try to breathe new life in to this most flogged of horses.
But who better to take on the challenge than someone who grew up with the genre and knows it inside out? A young Dexter Fletcher made a brief appearance in one of the finest British crime thrillers ever made, John Mackenzie's THE LONG GOOD FRIDAY, and followed this by starring in the aforementioned LOCK, STOCK – one of the biggest homegrown hits of the 90s. His debut behind the camera eschews the bloody violence normally found within the genre, adopting instead a quieter, more contemplative tone, focussing on the damage that crime inflicts within a family unit.
Charlie Creed-Miles is the Wild Bill of the title, a man sent down eight years earlier for various drug related offences. Released on parole, he heads back home to seek out the family he left behind. At first he finds his notoriously violent past ingratiates him with the local drug-pedalling gang on his old turf, who quickly recruit him in to their ranks. But Bill no longer seems to be all that Wild; Creed-Miles' underplayed, affecting performance suggests a man tamed by his time in prison, struggling to get to grips with his freedom, who has come home to get his life back in to some sort of order.
Though it doesn't exactly break any new ground, Wild Bill is a moving, gritty family drama.
With his wife having abandoned their two sons, he finds the eldest, Dean (rising talent Will Poulter), has staved off social services by getting a job on the nearby Olympic Park building site. In order to avoid being put in to care, Dean makes a deal with the father he has grown to hate: Bill must play the role of the caring parent for as long as is necessary, and in return Dean won't grass up his dope-possessing father to the police. But it's youngest son Jimmy (Sammy Williams) who forces Bill to confront his violent past one last time.
Though it doesn't exactly break any new ground, Wild Bill is a moving, gritty family drama. The bleak London setting is convincingly evoked and its threatening atmosphere is just occasionally lightened by the odd flash of humour. The strong supporting cast includes cameos from the likes of Andy Serkis, Olivia Williams, Sean Pertwee and Fletcher's old mate (and fellow LOCK, STOCK alumni) Jason Flemyng. It's capped by a neat ending that appropriately echoes the famous conclusion to THE LONG GOOD FRIDAY, but instead of being driven to his doom, the back seat passenger here realises that his fate perhaps holds the glimmer of something more hopeful. On this evidence Fletcher is certainly a director to watch.