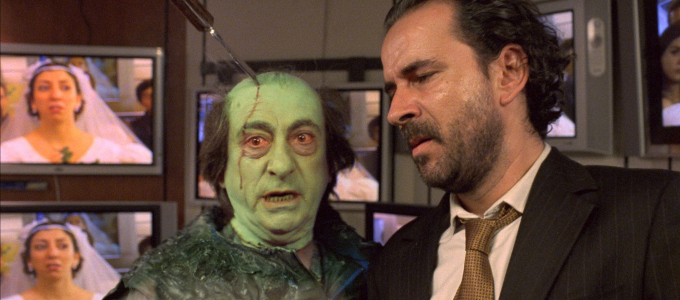 It's a general rule across Álex de la Iglesia's filmography that anything shiny and new will be rendered shabby and broken by the narrative's end, which should alert us from the start of FERPECT CRIME (CRIMEN FERPECTO) that Rafael (Guillermo Toledo) has a mighty fall ahead of him. Rafael is a master salesman and aspires to a slice of the lifestyle that he sells, a life of sharp clothes, fast cars, and beautiful women. In short, Rafael is only interested in elegance, and he sneers at the mediocrity of the everyday. He is also, not coincidentally, something of an obnoxious jerk.
A cinematic cocktail that combines Hitchcockian suspense and sly wit with Buñuelian grotesque absurdity, de la Iglesia's seventh feature was a return to the black comedy of THE DAY OF THE BEAST (EL DÍA DE LA BESTIA) (1995) and the crime caper aspect of COMMON WEALTH (LA COMUNIDAD) (2002). Unusually, however, in FERPECT CRIME de la Iglesia forgoes his normal emphasis on the comedy ensemble and instead focuses on a central pair of characters, played by Toledo and Mónica Cervera, in what becomes a battle of wits with murderous consequences.
Rafael is our point of entry into the narrative and he delivers a first person narration throughout: his opening monologue is delivered straight to camera and is reminiscent of Michael Caine in ALFIE (Lewis Gilbert, 1966), a cocksure ladies man on the prowl. He is the head of ladieswear in the department store Yeyo's (based on El Corte Inglés, or an Iberian John Lewis) and hoping to become the manager of the floor overall. But his upward trajectory is unexpectedly halted and during a violent scuffle in the women's changing rooms with the head of menswear, Don Antonio (Luis Varela), Rafael accidentally kills his rival. If he is to avoid getting caught, he needs to dispose of the body inside a crowded department store, and discover and apprehend an unknown witness to the crime.
… an increasingly warped game will play out, combining stupidity with touches of Hitchcockian genius.
Although the witness will assure Rafael that he has nothing to worry about, he soon finds himself subject to blackmail with his slick reputation in tatters and a life of mediocrity laid out ahead of him. As he plots his escape by watching crime films for inspiration, the ghost of Don Antonio (now with a meat cleaver permanently embedded in his skull due to the method of body disposal) acts as his confidant and companion, encouraging Rafael in his murderous plans. Buñuel's REHEARSAL OF A CRIME, a.k.a THE CRIMINAL LIFE OF ARCHIBALDO DE LA CRUZ (1955) and Hitchcock's DIAL M FOR MURDER (1954) are among the titles Rafael buys, with the Spanish title of the latter (CRIMEN PERFECTO ['Perfect Crime']) providing the title for de la Iglesia's film when it scans through the till wrongly, much to the dismay of the perfectionist Rafael. Indeed Rafael is perturbed by the number of movie criminals who get caught, but is reassured by Don Antonio that he's smarter than the people he has been watching onscreen: an increasingly warped game will play out within the walls of Yeyo's, combining stupidity with touches of Hitchcockian genius.
As with THE DAY OF THE BEAST, de la Iglesia juggles genres with aplomb: Rafael moves between comedy, horror, and suspense throughout the film. But FERPECT CRIME lacks the affectionate warmth of the earlier film and the exaggerated misogyny on display (although comic in its excess) leaves a bitter taste, even if Rafael gets his comeuppance at the hands of a triumphant woman. Nonetheless if the film is viewed as a comedically violent romp, it probably stands as a good introduction to the director's excesses and particular brand of mayhem.
httpvh://youtu.be/jmeQbWrKHxc