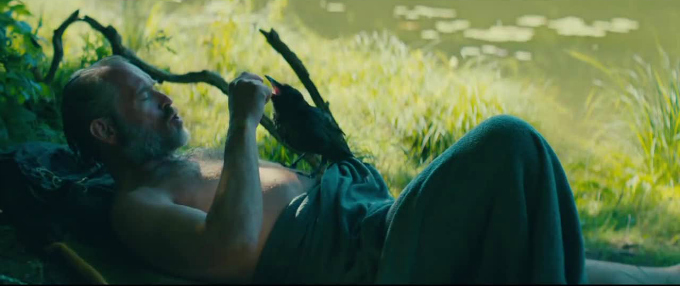 If you love Stella Gibbons, The League of Gentlemen, Daniel Clowes' Ghost World or the French photographer Bernard Faucon – if you've ever done something bad to a Sylvanian Families doll – you will relish the cruel comedy of Frauke Finsterwalder's FINSTERWORLD.
The director created this world with her husband, the hipsters' hero Christian Kracht, who also wrote the screenplay; citing Edgar Reitz' HEIMAT trilogy as a key inspiration. HEIMAT is known for its subversive commentary on German culture. However, where Reitz hurled us along several branches of a gnarled family tree, FINSTERWORLD spans three generations in a modern day setting. The youngest characters see the Holocaust as an incomprehensible legend; the parents drown themselves in consumer decadence and shun their legacy; and the grandparents were post-war babies, now living with the amoral memory of the 1930s as a golden age.
The jewel in the cardboard crown of FINSTERWALDER is Fassbinder favourite Margit Carstensen. This magnificently versatile and authentic actor also appeared in Crispin Glover's IT IS FINE! EVERYTHING IS FINE, which shares many of FINSTERWORLD's conceits – from its preoccupation with post-Holocaust guilt to its gaudy audio dub. Strong supports include Corinna Harfouch, who played Frau Goebbels in DOWNFALL: she waxes winsome as the Sandberg family matriarch. Carla Juri, who recently enjoyed her big breakthrough in Charlotte Roche's WETLANDS (FEUCHTGEBIETE), displays a remarkable range as schoolgirl Natalie, her nuanced deadpan giving way to burgeoning catharsis. Equally charismatic is Sandra Hüller as the naively optimistic documentary filmmaker Franziska, whose blinkered worldview sets her up for repeated failure. The narrative threads are drawn together into a web of synchronicity, with the Sandberg family lurking at the hub.
The jewel in the cardboard crown of FINSTERWALDER is Fassbinder favourite Margit Carstensen, [a] magnificently versatile and authentic actor…
Editor Andreas Menn nimbly trips back and forth between the various strands, which unravel in the second half when almost every character meets a tragic fate. FINSTERWORLD draws on myriad artistic influences from that period of moral conflict in the swinging sixties, when creators such as Günter Grass depicted the German struggle with post-Holocaust identity through a magical realist lens. Cinematographer Markus Forderer's use of colour is tastefully saturated in the style of Wes Anderson, Instagramming eternal sunlight onto each outdoor scene. The lost highways and dread suburbia are empty – no extras, no ambience. Bavaria's mountains are tucked away, the personality of the "Freistaat" bleached by hyperreal sunlight until it resembles the Italian utopia where Finsterwalder lives part-time. Composer Michaela Melián, singer of the German new wave band FSK, constructs a wonderfully kooky score – a cynical, synthetic take on the "Penguin Café" style.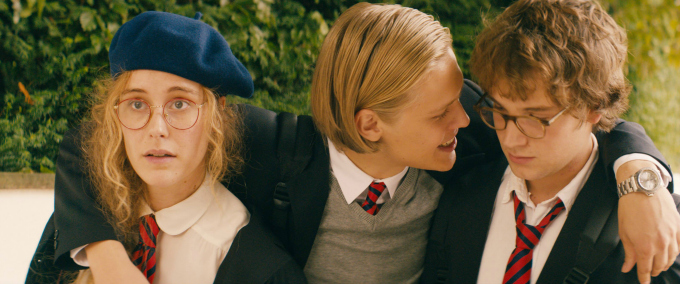 The German language itself has a key role to play in FINSTERWORLD. The dialogue is carefully structured into deceptively quaint terms, which may be lost in translation. The older actors took naturally to their lines, but the younger cast members endured a culture shock in the stripping of colloquialism. Finsterwalder felt that it was important, though, for those young characters representing the endurance of fascism to use the stylised language of those civilised, educated Doric pillars of society. The forceful Maximilian (Jakub Gierszal) is often seen as Kracht's own "Mary Sue", and there is certainly a strong physical resemblance, although the writer denies this – at school he was the one being bullied. Max might be more fruitfully examined as the author's Jungian shadow aspect, if that is your inclination.
It's all too easy to over-analyse Kracht's use of language, but even so it's important to remember that he surely expects us to do so. The pedicurist Claude (Michael Maertens)'s unctuous bribery of the policeman who stops him for speeding: "Ich schenke Ihnen diese Fusscreme," he coos – "I'll give you this foot creme". Here he uses the word "schenke" instead of "gebe", imbuing the transaction with the sense of a selfless donation, offering or even a benediction. The paralinguistic quirks and reveals, however, ensure that non-German speakers will enjoy a rich experience. Kracht plays Palahniuk with certain conceits – just as Tyler Durden sold liposuction soap, Claude the pedicurist bakes callus cookies. The filmmakers cite the symbolism of the podiatry as an allusion to the blisters and scabs which have formed over the fissures in post-Holocaust German society. Bombed, crumbling German cities were plastered with layers of concrete; the mass graves and trenches filled and forgotten. That which was buried haunts us still.
It's all too easy to over-analyse Kracht's use of language, but even so it's important to remember that he surely expects us to do so.
Some audiences ridicule or sexualise the Furry subculture depicted in the film – but here their fetish represents the vulnerability shared by all characters. Peccadillos are normalised here and go unpunished – it's the quiet hermit character (Johannes Krisch), who lives without television, without power and even without language, who meets a bitter end. As we get to know Claude better, he jeers at the anodyne German folk song "Fiderallalla": a twee tale of a blackbird's wedding, which anthropomorphises and disinfects creatures like the Hermit's raven and reduces them to mawkish ciphers.
Several characters share a tendency to apologise that will feel familiar to the guilt-ridden British audience member. But each courtesy is a fraying harness on a feral beast – each woman character has her moment of primal rage but only one character, Georg, truly explodes. These frequent apologies – for something so simple as a forgotten scarf – are deceptively shallow, and in fact bear just as much gravitas as that powerful line in EASY RIDER, "We blew it, Billy." But if FINSTERWORLD has any message, it is that we have not blown it – we never had it in the first place – we must own our heritage, our faults and our cruelty, return from the dusty street to the wild woods and accept our dark nature, to embrace that which gives us joy for our short time in this world. Cat Stevens "The Wind" bookends the film:
Listen to the wind
To the wind of my soul
Where I'll end up well I think,
Only God really knows
I've sat upon the setting sun
But never, never never never
I never wanted water once
No, never, never, never
I listen to my words but
They fall far below
I let my music take me where
My heart wants to go
I swam upon the devil's lake
But never, never never never
I'll never make the same mistake
No, never, never, never
FINSTERWORLD screens on 4th Sep at 16.00 and 6th Sep at 11:00 am at the Cambridge Film Festival.
httpvh://www.youtube.com/watch?v=quokQw20VJk