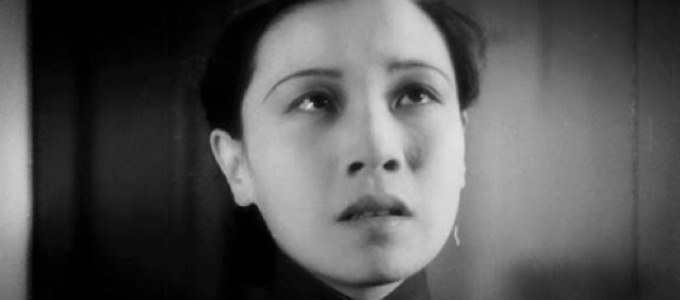 This year, the China Film Archive remastered and digitalised Wu Yonggang's 1934 classic silent, THE GODDESS. It premiered this year as part of the London BFI Film Festival, at the Queen Elizabeth Hall in London. THE GODDESS tells a story about a Shanghai prostitute, "The Goddess" (Ruan Lingyu) and her struggles of raising her son while facing social pressure. Among SPRING IN A SMALL TOWN (1948), NEW WOMEN (1934), SONG OF THE FISHERMEN (1934), WILD ROSE (1932) and many other silent films, THE GODDESS reveals the passion towards film arts, the maturity of filmmaking and film culture during the 1930s and 1940s in China. 
This remastered screening was a precious opportunity to those who appreciate Chinese cinema and film history in general. Sponsored and produced by KT Wong Foundation, the project commissioned and invited famous Chinese composer Zou Ye to compose a new score for the film. During the BFI screening, the score was performed by the English Chamber Orchestra; an artistic bonus which added a new layer of soul.
Such sorrow, how can it be expressed through music?
Any silent film screening that is accompanied with live music is such an artistic enjoyment. The passion that the musicians deliver through strings and notes re-activates every emotion that is embedded in the silence. The new score composed by Zou Ye is close to perfect. Every note and melody follows the narrative development intimately, and engages with the sentiments of the audience. In the last scene of the film, "The Goddess" suffers from all kinds of sorrow in the prison. She feels hopeful towards her son's future, but at the same time hopeless and angry for being a helpless prostitute. Such sorrow, how can it be expressed through music? Composer Zou Ye added a section of a female vocal at the end of the score, as the most effective instrument to deliver the unbearable sadness. The emotion that the female vocal sings, transforms and goes beyond all the senses that any instrument is able to achieve.
Another significance about this screening is its contribution towards a cross-cultural exchange. This is the first East-West collaboration that has been conducted on such large scale. The music composed by Zou Ye is full of aesthetic elements from Eastern and Western culture. It re-visualizes the cultural hybrid and metropolitan culture in the Orient, Paris and Shanghai during the 1930s. However, just like the Cheongsam that the actress wears in the film, the music still contains a strong atmosphere of Chineseness. For the English Chamber Orchestra, this is a very unique performing experience. Their capturing of the Oriental spirit is crucial to the success of the screening.
It's difficult to summarise such a powerful and significant experience in words. Where East met West, THE GODDESS shone at the Queen Elizabeth Hall. This beautiful production was a respectful homage to the older generation of Chinese film artists, and it has also left a new cultural mark in contemporary cinema culture.
httpvh://youtu.be/Vw-jEWy8HeQ?list=PL789B18D1623E40CB