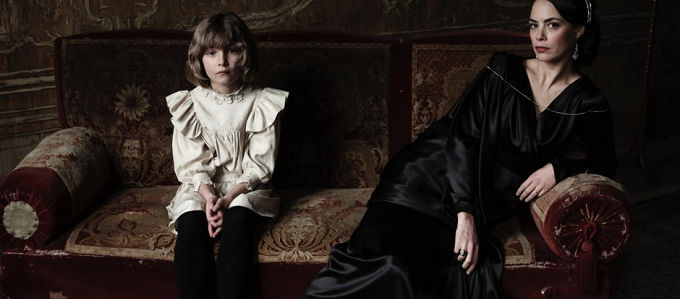 "That was the tragedy. Not that one man has the courage to be evil, but that so many have not the courage to be good."
An overture, three tantrums and a coda. We're back in the remnants of Old Europe in Brady Corbet's directorial debut, THE CHILDHOOD OF A LEADER. The big powers of the Western World have just fought their biggest battles to date, and in 1919, the Treaty Of Versailles is being drawn up to carve out the victors' rights and the losers' concessions. How merciful this Euro-American new world  order will be, and how the mistakes of the past and present will influence the future are all laid bare on the personal and continental scale  in Corbet's accomplished first feature.
Where might you have heard of Brady Corbet before? Familiar to arthouse and world cinema fans in front of the camera as an actor in respected films such as Greg Araki's MYSTERIOUS SKIN; Lars Von Trier's MELANCHOLIA, and Michael Haneke's  FUNNY GAMES, Corbet has trodden the arthouse acting path for well over a decade. The calibre of directors he has worked with so far would suggest that when the time came for him to shift roles to behind the camera, cinema audience be in for a treat. This level of expectation is more than met in this tense historical, family drama.
Corbett has assembled a cast that includes Game Of Thrones actor Liam Cunningham; THE ARTIST's Bérénice Bejo; and TWILIGHT heart-throb-turned-indie-arthouse-actor Robert Pattinson. But the real star of the 116 minute feature is bilingual ten-year old Tom Sweet, who plays the precocious, manipulative, and androgynous boy Prescott. Sitting somewhere between THE OMEN's demon-child Damien; Tarkovksy's Ivan in IVAN'S CHILDHOOD, and the titular Kevin in Lynne Ramsay's WE NEED TO TALK ABOUT KEVIN. Sweet exudes a butter-wouldn't-melt persona, minutes after he's chucked rocks at the local parishioners exiting their Christmas choir practice. In short, don't trust this child. An ominous foreshadowing of events to come later in the film. This is, after all, the childhood of the leader, we are being invited to journey through.
The set design is exquisite. The interiors of a dilapidated rural French mansion, and its surrounding gardens, trapped in Autumn and Winter for the duration of the film, are beautifully rendered on screen by cinematographer Lol Crawley. And it's worth noting that although this is a period piece, complete with DJ's, frilly frocks, and almost late Victorian childwear, the accompanying soundscape is anything but thanks to the musical genius behind it: Scott Walker. 'No Regrets' and 'My Ship Is Coming In' era Walker this is not. This is the Scott Walker of the albums Tilt (1995), The Drift (2006), and Bish Bosch (2012)  – an inspired artist, who at this stage of his varied and ever-evolving music career, makes contemporary Tom Waits sound like a light-hearted pop artist. There's an unsettling discordance to the industrial string sections that accompany Corbett's images on screen. Prescott jumps on his bed, in the middle of one of his self-imposed tantrums, and it's perfectly synchronised to the BMP of the accompanying strings from Walker's orchestration.  The black and white archive footage used in the overture and coda to the film, do not make for comfortable viewing when coupled with an ominous string section that sounds like it's come from a techno horror film. This marriage of image and audio is a perfect coupling and it's full credit to Corbett for bringing Walker on board with the project, which according to his post-screening Q&A at the Edinburgh Film Festival, has taken four or five year to come to fruition.
There's an unsettling discordance to the industrial string sections that accompany Corbett's images on screen
With an opening credit sequence reminiscent of its inter-war setting, and a closing scene (with a twist that won't be revealed here) containing cinematography that feels like a hybrid of Sergei Eisenstein and Leni Riefenstahl,  Corbett has stamped a definite directorial style on his first feature film. How long he intends to stick to this style of filmmaking remains to be seen – perhaps we will see more of him in both acting and directing guises a la Canada's Xavier Dolan? What is certain at the Edinburgh International Film Festival UK Premiere of his new film, is that Corbett has more than proved his worth in the arthouse cinema cannon with THE CHILDHOOD OF A LEADER, and is a solid directing force to get behind in the years to come.
httpvh://www.youtube.com/watch?v=COSxIEo2vxU