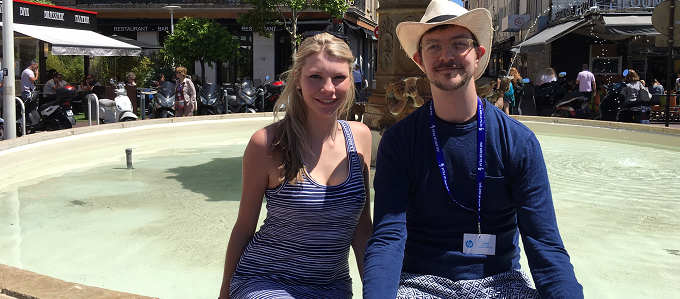 After a successful Watersprite International Student Film Festival earlier on in the year, Festival Director Bernadette Schramm was over at the 69th Cannes Film Festival helping to run the Refugee Voices In Film Conference up on in the Marche Du Film. We caught up with her to find out what's it's like to move from the small streets of Cambridge to the dazzling lights of Cannes and more!
Jack: We are strolling down the side-streets of Cannes and I'm joined by Bernadette Schramm, the director of this year's Watersprite International Film Festival.
Bernadette: Hi Jack.
Jack: You're here helping to run Refugee Voices In Film?
Bernadette: Exactly, so it's a conference which is organised by UNHCR, the UN Refugee Agency, and IEFTA, the International Emerging Film Talent Association. We welcomed IEFTA to Watersprite this year, the President Marco Orsini came to give a talk about documentary filmmaking and some of the challenges of subjectivity and objectivity within documentary. So that's basically how I know IEFTA and they asked if I would come over to Cannes to help with the conference, which was an extremely powerful and moving event which took place yesterday in the Palais des Festivals.
Jack: What sort of guests did you have attending the conference?
Bernadette: It was interesting; we had refugees speaking about their experiences, and their experiences in filmmaking as such. We had people like Alice Bragg, and Vincent Cochtel, Director of the Bureau for Europe of UNHCR, they were talking about their own experiences of filming in refugee camps and what it means to them – the different perspectives that you can get on a crisis.
Jack: Is there a collective of filmmakers worldwide, who chose to cover this subject matter of the refugee crisis?
Bernadette: Yes, and what's really interesting is that they were all doing their thing separately , but often they're going down the same parallel routes, so what we did yesterday was to bring all these different voices together, all the different ways of how they've been expressing themselves, and you can really see that there is a strong network of very talented filmmakers there. Well also had people like Rithy Pahn, the Cambodian filmmaker who was at Cannes around 20 years ago with his 1994 film, Rice People, an autobiographical film made in exile. He was fascinating to listen to. You really saw at the event a community and network of people who are actively campaigning about the crisis and documenting it.
Jack: They often say that filmmakers are people either living on or interested in the fringes of groups, are these films that are destined for cinema, for TV, for Netflix? Are they just going to stay in film festivals?
Bernadette: It's a bit of everything really. So far, some of the films that we screened yesterday, or that we screened at the doc corner we're using them on social media, there was a whole Channel 4 series on it, so television, and also on the film festival circuits, some of the films are shorts, some of them are a series, and some are feature length films – both documentary and fiction. We had a film called A SYRIAN LOVE STORY –
Jack: Which we showed at the 2015 Cambridge Film Festival.
Bernadette: Yes that's the one. So we had the director at the conference yesterday and it was really fantastic…filmed over 5 years, with the relationship to cinema. Some people they used film as a way of getting rid of their emotions, putting it in a box and expressing it once. For others, the storyteller became the connection to memory, for the couple in A SYRIAN LOVE STORY, they quite liked seeing the director because that was their only really connection with the home that they had to leave. So there were different perspectives on this whole issue as to why the filmmakers were documenting the crisis.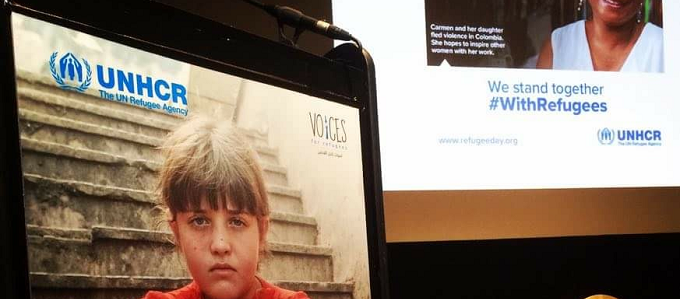 Jack: Did you get the feeling that any new projects were formed there and then in the conference.
Bernadette: Definitely! At the end, we had an outreach session to ask everyone "what are you going to do now? What's the next step to really bring out your voice and share what you're doing to change something?" There were so many ideas going around the room as to what we can all do, so that's going out now and people are really wanting to be activists for it.
There were so many ideas going around the room as to what we can all do, so that's going out now and people are really wanting to be activists for it.
Jack: How have you found it coming over to Cannes having been Bernadette the Student, Bernadette the Director of Watersprite Film Festival, to Bernadette part of the Cannes Machine?
Bernadette: It's crazy! It's my first proper time participating in things at Cannes and I have to say I've loved it. My favourite place was the International Village. I still came here with my Watersprite hat on, so I made lots of connections with people who want to work with young filmmakers and develop projects with us all over the world, doing what Watersprite is already doing but on a larger scale. So you can take it and tour it somewhere else.
Jack: So we might see a delegation of Watersprite folk here next year perhaps?
Bernadette: That would be amazing!
Jack: The Cambridge crew would grow for sure. What do you think is different to a film festival like Cannes compared to somewhere like Berlinale or London Film Festival?
Bernadette: I have been asking a lot of people this question as well. I've been getting mixed responses. Some people think it's quite commercial because it's very glitzy, whilst some people I've spoken to have made some great connections for new creative projects here. Personally I think it is a beautiful place to come, very, very hectic. You meet so many people, one thing after the next. There's so much history all around the city…
Jack: You do feel like you're walking in the footsteps of film-stars from yesteryear at times.
Bernadette: It's so true! That's exactly why I love being here. I was living in the South of France last year, so it's a little like coming home for me anyway.
Jack: So this is the first time you've properly experienced the festival even though you were living around her?
Bernadette: Yes, well last year for the film festival, we had clients for a screening, but I was only here for one day of the festival, so it's the first time I've properly been in Cannes.
Jack: How long have you stayed this year?
Bernadette: Six days.
Jack: That's a good innings.
Bernadette: A good introduction yes for six days. I had a bit of an experience of everything really. Not as many screenings as I would have liked, but it's not the end of the world.
Jack: A lot of people say that yes when they're here for work.
Bernadette: Yes, so I hope to come next year and try out the full programme alongside work.
Jack: Thank you so much for the chat Bernadette.
httpvh://youtu.be/idCwNpoVMU8