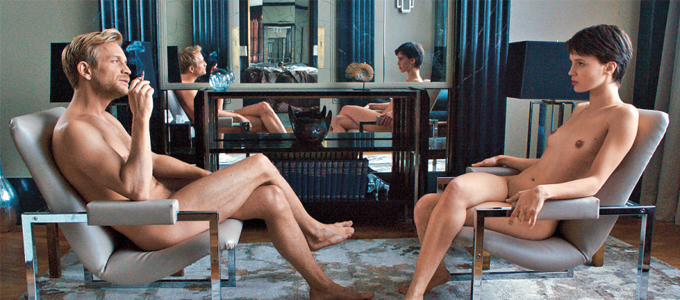 To adapt the ancient saying about Africa, there's always something new out of Ozon. After the delicate emotional stitching of FRANTZ, here we have full-blooded open-heart surgery, fulfilling the director's wish to make something 'sexual, perverse and funny' from his own adaptation of Joyce Carol Oates's short story LIVES OF THE TWINS; appropriately written under the pseudonym Rosamond Smith.
Former Parisian model Chloe (Marine Vacth, Francois Ozon's discovery from JEUNE & JOLIE) suffers from stomach pains and after being reassured that she isn't pregnant, in an explicit gynaecological scene handily reminiscent of David Cronenberg's DEAD RINGERS, it's suggested that her ailment might be psychosomatic. Dr Paul Meyer (Jeremie Renier) seems like the perfect shrink, comforting in both his clothes and his consulting room. When the spark of romance between them flares, kindled mainly by Chloe, Paul puts a stop to the professional consultations in favour of a more personal relationship, and Chloe and her cat Milo move into his chic apartment, observed by nosy neighbour Rose (Myriam Boyer).
On the bus home from work (in a gallery stuffed with overpowering and visceral images of human torsos) Chloe thinks she sees Paul, nowhere near his own arondissement, in conversation with a woman. Paul denies any knowledge of this as their relationship becomes brittle, fuelled by his resentment of Milo and the curious Chloe going through his personal things. Returning to the scene of the mystery, Chloe discovers another psychiatrist, Dr Louis Delord (also Jeremie Renier). His consulting rooms are glossy and clinical where Paul's are cosy (artificial flowers versus real), and their methods are also polar opposites, his couch and adjoining bedroom used for rough sex with his patients. Soon Chloe is dreaming of a threesome with Paul and Louis, and Milo has vanished – replaced in cutaways by Louis's more sinister cat Danton, not to mention Rose's stuffed cat on her sideboard.
That Paul and Louis are estranged identical twins comes as no real surprise, nor that Chloe's increasingly fragile mental state edges her towards the unpredictable but more savagely stimulating Louis. Simultaneously she delves into the twins' past to discover the truth behind the separation, which leads to an encounter with the bedridden and semi-vegetative Sandra Schenker, whose mother (Jacqueline Bisset) has been Sandra's carer since a catastrophic accident involving both Paul and Louis, her former high schoolmates.
Francois Ozon orchestrates the first two acts of this psychodrama with great skill, less clunkily than Brian de Palma, say, would have approached it – and with less impersonal chill than Cronenberg. Even so, L'AMANT DOUBLE has obvious similarities with the works of both, as well as touches of the unsettling menace of Polanski's THE TENANT. But as the use of mirrors and shock effects (such as a beating cat's heart in a jewel box) escalates, the story descends into a riot of unreliable narrators and misidentification – just whose mother is Jacqueline Bisset, and do the events of the third act actually happen or are they part of Chloe's deranged fantasy?
Ozon's wild ride is never less than engrossing, not to say enjoyable – but after all the careful setting up what emerges (the word is deliberately chosen) is pure copper-bottomed tosh. The spirit of FRANTZ is well and truly exorcised.