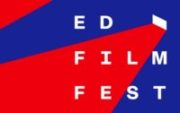 SKIN is the latest film from director Guy Nattiv, telling the true story of Bryon Widner (Jamie Bell) a racist skinhead who turns his back on his life of hate to be with the women he loves, Julie (Danielle Macdonald), alongside some help from Daryle (Mike Colter), a black activist.
SKIN is one of the most powerful films at the Edinburgh film Festival, not only because of its subject matter but because of its brilliant storytelling. SKIN does glorify or shun its central character – a Nazi – but simply tells a real story. Bryon is a very difficult character to understand; he is racist, violent and aggressive. However, he is also caring and protective. The hate group he is a part of has clearly brainwashed him into being this way, by making him feel like they are the only ones that love him, that he is a part of the family and everyone else is the enemy. The way the leaders Fred 'Hammer' Krager (Bill Camp) and Shareen (Vera Farmiga) bring young people into their group with gifts and a home supposes they really do care about their own. However, this is a façade that the film pulls you into thinking, before pulling out the rug and revealing their truly horrible ways.
Fantastic acting from Jamie Bell, who manages to capture such a complex person so well, elevates this film from very good to excellent. Bell must have done his research before this role, as his reactions to the various horrific acts he commits seem genuine, as if he is actually experiencing them himself. That makes his journey of redemption so much more believable.
The film does not at any point tell you how to feel, it does not signpost for you to feel angry or for you to empathise. The cues are simply done through visual storytelling. Throughout the film there is a constant reminder that Bryon does find a way out of his toxic lifestyle, this is done through shots of his tattoo removal surgery; however, when watching you forget this. These sequences make you feel how Bryon must have been feeling: how can he ever be forgiven for what he has done, how can he ever find a way out? But the framing device always reminds us there is a way out.
The film does not waste time with long visual metaphors, instead always focusing on the story. Nattiv allows dialogue and the interactions between characters to speak for itself, anything else is left for interpretation.