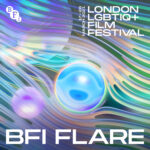 JUMP, DARLING – Phil Connell's debut feature – is a charming indie flick that sails across a choppy sea of tumultuous tones, with the right amount of buoyancy to echo the beautifully haunting elements of loss and reinvention throughout Connell's screenplay. JUMP, DARLING twists the formula of quirky cinema set to evoke quiet humour in the most melancholic of moments.
After suffering a break-up with his long-term boyfriend, novice drag queen and aspiring actor Russell leaves the big city of Toronto to take part in an acting programme. While en-route, he stops to visit his grandmother, with the idea to purchase her car from her. Learning of her debilitated state and the possible prognosis that she will soon be unable to care for herself, Russell decides to stay and care for her and lay to rest her fear of being placed in a nursing home.
There is a delicate balance between the topics of loneliness and illness that drift intimately through heart-warming comedic tones. Connell's screenplay presents the foundation of Russell and his grandmother Margaret's relationship. Their deep bond is formed from the emotional realities they both share (but at different stages of life) and the acknowledgement that they have much more in common than is first apparent. In his drag persona of Fishy Falters, Russell internally struggles while trying to make his mark in the small town gay bars. Margaret remembers her passions for ice skating in her youth, in a now ageing body that begins to intrude upon the one thing she holds dear: her independence.
Connell approaches the questions of identity in cinema in a unique way. He places the existential troubles – moulded through Russell's recent break-up and career missteps – adjacent to Margaret's stubbornness and refusal to admit that she herself also needs help and full-time care. Despite the sombre notes that drift through the screenplay, Connell steadies the upbeat ambience through Russell's persistent candour in his professional and sexual relationships and Margaret's lighthearted cattiness.
There is an array of deeply vulnerable elements within Connell's writing that transcends the celebratory qualities of LGBTIQ+ cinema into a much wider evaluation and examination of the human spirit. The film draws this using the rocky aspects of Margaret and Russell's relationship as the pathway that draws them closer, where the crossroads lead them back to a route of understanding from the reflections of themselves within each other. As the plot develops, it becomes clear that there is much more at play than an unconventional buddy comedy, but rather a soulful dive into the trials and tribulations of familial relationships and the unlikely sparks that come from the most chaotic events.
JUMP, DARLING is a moving feature that resounds the magnetic writing of independent cinema and puts the complexity and beauty of human relationships in the centre of its discourse of LGBTIQ+ life. Connell amplifies the richness of family and unconditional love in the backdrop of the inescapable and painful feelings of presentiment, loneliness and indecision.