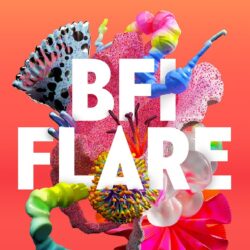 BFI Flare offers another wonderful range of short programmes this year. Family Affairs centres around (you guessed it) families. Whether it's creating a new family, reconnecting with estranged relatives or joining families together, this programme sees the many forms in which families can take and the ways in which they evolve throughout our lives.
Queer Muslim, Noor (Kausar Mohammed) brings her new partner Luz (Vico Ortiz) to her family's annual game night in THE SYED FAMILY XMAS EVE GAME NIGHT. Already beginning the night on an awkward foot, Luz tries their best to fit in, despite being tested by Noor's glamorous and sceptical older sister, Soraya (Meera Rohit Kumbhani). The film is peppered with home video footage, reminiscent of festive family get-togethers, as they all drink and play various games. Towards the end of the night, tensions between Soraya and Luz still seem high until Luz caters to Soraya's more traditional outlook. What director Fawzia Mirza's short does is evoke an already planted notion of family games nights while at the same time commenting on the difficulties that often arise when coming out as queer to family members. It's able to address substantial issues with a lightness and a sensitivity that lends itself well to the family dynamic in the film as well as leaving the audience asking questions about the reality of family dynamics and the choice that so many queer people have had to make when it comes to family and their place it.
It's César's birthday in Judith Corro's short BIRTHDAY BOY and he has to decide whether to keep reinforcing his parents' denial of his identity or to embrace his individuality, no matter the consequences. After coming out to his family as trans, César's parents are still unable to understand and spiral into denial of their son by using his dead name and asking him to honour their gendered traditions. With flashbacks of César as a child already not conforming to traditional stereotypes, we see him on his eighteenth birthday reach breaking point after an alienating and suffocating family event where he can no longer keep pretending for his parents. Supported by his brother, César is able to yet again enforce his identity to his family. BIRTHDAY BOY is set at the cusp of that moment where you choose family or yourself, with César knowing that there's only so much he can hide and only for so much longer can he see the confusion and disappointment on his parents faces before he has to make a difficult decision to choose his family or himself.
In the tunnels beneath Libya, Britannia (Adam Ali) resides with his chosen family after being banished from his home. BABA tells the story of a gay Libyan teenager and his quest to emigrate to the United Kingdom. There's one issue with Britannia's plan: his passport is at his childhood home. With his interview at the Embassy the next day, his chosen family, Fatima (Colette Dalal Tchantcho) and Nour (Elysia Kozinos), agree to go with him to retrieve his passport. What Britannia finds is unexpected and it leaves him conflicted as to whether to leave Libya or not. He has to choose between his family and a new life for himself. What BABA does so brilliantly is offer audiences two conflicting choices to discuss, never knowing what Britannia chooses to do. Britannia wants to walk hand in hand with his lover on Canal Street without fear of imprisonment but seeing his father again and knowing how many other people in Libya need to be supported and helped leaves him to make a difficult decision.
Described as "a film for the community by the community" and celebrating its premiere at BFI Flare, QUEER PARIVAAR explores intergenerational and interfaith queer love in the hope to drive important conversations around the representations of LQBTQIA+ love and joy as well as allowing space for South Asian LQBTQIA+ stories. On the eve of their wedding, Madhav's (Shiva Raichandani) grandmother turns up unexpectedly after years of Madhav believing she was dead. Madhav finds out their grandparents were queer and both share stories that span generations and show the evolution of queer liberation. QUEER PARIVAAR promotes liberation, intersectionality, and the option to adopt tradition in your own way. 90% of the artists in the film, both in front of and behind the camera identify as LQBTQIA+ as well as being of all ages and from varied backgrounds. QUEER PARIVAAR is a true celebration of queer love, highlighting differences as well as community in a delicate and heart-warming short film.
Carmen LoBue's short, PINK AND BLUE explores what happens when parents choose to raise their child gender-free in a word that imposes such strict gender boundaries especially for children. Armani (Jojo Brown) and Crea (Kaydx) are expecting a baby and decide to raise it without gender. Both struggle at certain points with the decision, with Crea misgendering the baby and Armani not being completely present in the preparations, not helped by Armani's parents constantly asking them if they're having a boy or a girl. PINK AND BLUE shows audiences that doing something that goes against the status quo is always fraught with obstacles and often our own mistakes, and that raising a child in a binary world as a queer family can feel like swimming upstream but that ultimately a new status quo is being defined and we're just beginning to see the start of it.