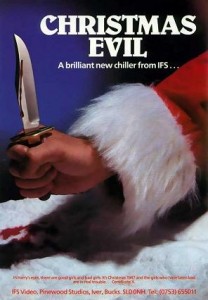 The Idea
London film lovers are probably well acquainted with The Prince Charles Cinema in Leicester Square, an alternative theatre presenting double bills, marathons, classics, adults-only kids' films, sing-a-longs and some of the best films of the year; and will thus not be surprised that it hosted the UK premiere of an 1980 Christmas-slasher film titled CHRISTMAS EVIL, or YOU BETTER WATCH OUT, depending on whether you ask the director or the distributors.
The premiere was made possible by the team from Cigarette Burns, a handful of cinephiles who have set it upon themselves to find the best/scariest/funniest/bloodiest/weirdest films to enjoy with friends over a pint and bring them to cinemas near you. In the last two years they have thrilled audiences with such 'classics' as VIDEODROME, CONAN THE BARBARIAN, BLACKULA, POLTERGEIST, THE RETURN OF THE LIVING DEAD, TROLL 2, PIRANHA 3D, SHOGUN ASSASSIN and check out their website for other past and future events.
The Film
To be seven years old and to believe in Santa Claus is a wonderful time, until you find out that (SPOILER ALERT) Santa is not real. An experience even more traumatising for young Harry – who is confronted by the truth when he accidentally sees the jolly old man, actually his father, sensually caressing his mother. But he refuses to stop believing, and decides that there is a Saint Nicholas somewhere; and in the physical absence of one, he will make a great acolyte.
Thus we find him 33 years later, a grown man, living on his own in a house permanently decorated for Christmas. An isolated and shy man, with not many social skills or an understanding of society's rules, but with a strict and simplistic moral code. He loves children, especially if they have been good, and is loved by them, weary of adults who mock him behind his back.
Near Christmas, unable to accept his peers' failure to live up to his standards of 'good' anymore, he finally decides to give in to his strongest desire. He dons a beautiful hand-crafted Santa suit and goes about town bringing joy to good children and adults alike, dust to the naughty kids, and to the naughty adults…murder.
Yes, this is a rather low-budget independent B-movie, and there are some explicit, bloody murder scenes involving an axe, but to call it a slasher is rather obtuse. There is no psychopathic killer hunting teenagers in an isolated location out of revenge or because they had sex. There is no final battle, there are no screaming cheerleaders and jock boyfriends playing detective or any of those staple clichés of the genre. There is a slower pace allowing the story to develop, the main character is quite well rounded and the moments of gore are actually pretty rare, the film rather reminding me of Fritz Lang's M. than FRIDAY THE 13TH or BLACK CHRISTMAS.
That is not to say that slasher-fans would be disappointed by this film, or that it hasn't influenced slashers, but it narrows the film down too much to categorize it so bluntly. It is not a masterpiece: the cinematography brings back memories from made-for-television nineties midnight films, the dialogue is not exactly quotable (not even ironically) and the acting is not very convincing either, except maybe Brandon Maggart as the main actor, whose character is generally interesting and likeable throughout the movie.
Believe it or not, despite its trashy allure, the film will manage to install some holiday emotions, which is probably why it developed a cult following and is screened every year by John Waters. So after the kids go to bed after The Muppets Christmas Carol, give it a try.