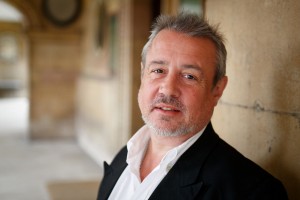 Hamish McAlpine appeared at CFF2011 to introduce a retrospective look at his production company TARTAN FILMS, which folded in 2008 but still offers a rich back catalogue of horror and art house film, from Park Chan-Wook's THE VENGEANCE TRILOGY and Shane Carruth's sci-fi drama PRIMER to more mainstream classics such as BELLEVILLE RENDEZVOUS.  Distributors and movie goers alike have become more sensitive since the mid-80s, and it's partly due to our increasingly squeamish society that Tartan went into administration.  McAlpine preserved the integrity of many controversial works threatened by censors, not least IRREVERSIBLE and OLD BOY.  Tartan is now under ownership of Palisades Pictures, who have eagerly embraced Tartan's legacy of cinematic curiosity and continue to expand the library.  TAKE ONE journalist Ferry Hunt spoke to the passionate provocateur himself.
Looking at the list of Tartan films, the first that pops to mind is ALLEGRO NON TROPPO: do you remember that?
Yeah, no absolutely, oh god, that's going back into the mists of time.  Yeah, it was just the most brilliant one-off film.  If you look at the whole Tartan catalogue, you'll find that it's all full of really weird one-offs: there were obviously themes, like Asia Extreme.  But also within there, all sorts of one-offs.  ALLEGRO NON TROPPO was so out there, it probably wouldn't have been picked up by anyone else.
It came out only shortly after FANTASIA, and it was said to be a parody; but I thought it was certainly more of a worthy challenge to it.  The musicians, for example:, Dvorak, Stravinsky, Vivaldi.  This does seem to stray from your usual Tartan norm though?
I don't think Tartan really had a norm, I mean we were probably the only company in the world that distributed Ingmar Bergman and Herschel Gordon Lewis.
If you had three musts for a Tartan film, what would they be?
Well it depended, there are two different criteria.  One was whether buying film to release on DVD, classic films, whether it was the Bergman library, or Godard, maybe Truffaut.  Obviously then you were just dealing with pedigree.  If I was looking at a brand new film, the main thing had to be: did it move me, was it a piece of art?  People come up with different definitions as to what art is.  For me, a work of art is something that moves you, you're not the same person as a result of having looked at that painting, having listened to that piece of music, it causes you to challenge things, to re-evaluate what you think about other paintings, other pieces of music, and that's always been the main criteria.  So that was always the first off, it was, "did it rock my boat?  Was it gonna change my world?"; the second was, "could I persuade other people?". If I could do that, the third criterion was, "was it affordable?".

Talking about films being art pieces, some say it is the promotion of art that is the art work itself.  You being the promoter in this case….?
No, Janis Joplin was never as big as Damien Hirst or Tracey Emin.  It's the artists, the Beatles were always bigger than EMI. There's an act to it, but at the end of the day it's just about being a suit, it's about fitting a square film into a round audience.
Were there films that you thought weren't gonna get as big an audience that they deserved, and so labelled them with Tartan?
No I wouldn't say I was a charity worker, I just think that often the films I liked, that I thought more conventional companies thought "Oh, we don't want to waste 10 thousand man hours trying to figure out how to get this to a non-existent audience". No, I never ever took pity on a film, or thought "oh, poor little thing, I'm gonna look after you and give you a home". Tartan was never Battersea dog's home.
Having the best intimate explanation of time travel, my favourite from your list has to be PRIMER, do you remember seeing that film for the first time?
Yeah, I saw it first at Sundance, and it was like, "wow", I don't know how much the film cost, probably not more than 20 thousand dollars. I guess it was a bit like PI, cerebral, my jaw dropped when I first saw it. "I really want everyone else back in England to see what I've just seen".
They are a few of your films, IRREVERSIBLE and FUNNY GAMES for instance, that are a shock perhaps to society's tolerances.  Do you think tolerances have changed during your reign?
As I said before, a film is an art piece that should move you, and that of course encompasses a lot of films that are challenging to viewers.  I had a lot of battles with the BBFC, we definitely  did raise the bar of what became allowable in cinema in the UK, and this wasn't deliberate, just something inevitable, because we were looking for mentally challenging films.  That did include MAN BITES DOG and IRREVERSIBLE.
What was the most difficult film for you to watch?
I don't find films difficult to watch, I think the most uncomfortable scene in one of my films was the rape sequence in IRREVERSIBLE.  Everyone thought the BBFC would take great issue with that scene, but from my battles with them I knew I'd never have a problem.  Because the BBFC's ruling was, in a scene of sexual violence, could the scene be construed to be erotic, and there was no way that that scene could be construed as erotic.  But I always knew I was going to have a problem, which I did have, with the opening sequence, the guy being attacked with a fire extinguisher was going to be the subject of my battleground with the BBFC.
There are a  few documentary style films in your catalogue: was SUPERSIZE ME a subject that caught your attention?
Documentaries in around 2005 began gathering a cinematic audience, having previously been in the exclusive province of television.  With one or two very rare exceptions, like the Mazells Brothers and Michael Moore had just appeared.  A lot of people had just got into the idea of making documentaries, and people got into the mind-set of being willing to pay money to see them. Previously they never would have.  With that, a lot of new documentary makers came forward.
Always the best shit happens at the beginning of a movement, all the best punk music was in 1966, 1967.  There was  a brief period that was the golden age of documentary filmmakers.  Now people have realised that it's a lot cheaper than making a regular movie.  It's very rare that I could be tempted to go into a cinema and pay to see a documentary. SENNA was great recently, I would really call that a major exception to the rule.
My own personal favourite is DIG, made over a period of seven years, charting a friendship of two guys forming bands at the same time.  One of which became, superbly, the Dandy Warhols; meanwhile, having the Brian Jonestown Massacre crash through the floorboards.  It follows the relationship between these two guys, and what happens to each band.  This ended up in them taking out court injunctions against each other.  It's one of the most brilliant portraits of an artist, and hysterically funny.
What would have to be the subject of a film made now be, for you to be interested in producing?
I'm lucky as I see producing and distributing as the same thing, so I'm like poacher cum gamekeeper.
Any baby projects at the moment?
I have a film right now, aiming to be shot in March, an American movie produced by Marsha Lee, an American lady living in London, also myself and Carol Siller.  It's set in the American War of Independence, it's a little known story about how a bookseller managed to change the war.  The Americans were losing their war, and it was all centred around the siege of Boston, and this bookseller managed to bust the Brits and break the siege, changing the war and resulting in American becoming an independent country.
I then have a project with Rankin who, having already directed one film, is spending more and more time in the visual arts, videos and commercials.  We're doing a ghost story, it's a great script, and it's my story.  And I've brought in a brilliant scriptwriter, Sue Everett.  Who teaches scriptwriting in Leeds, and she's an absolute genius, shooting that in August next year.  I'm doing a film with Richard Jobson, I produced his first two films.  I've just produced a play that's just finished its run in Leicester Square, and we're gonna turn that into a film in 2013.
Who is your artistic inspiration?
It sounds an awful thing to say: I think I'm my own inspiration.  Director wise, it's Wong Kar-Wai, we're great great friends, I've distributed many of his films.  I said to "Wonka" one day: "I'll distribute every one of your films, but I'll never produce them".   He said, "why?" and I said, "because you must be the worst fucking nightmare to work with."
What's the latest film you've watched, a recent film?
I went to see TINKER, TAILOR, SOLDIER, SPY, which I thought was absolutely fantastic, it's so this year's KING'S SPEECH, the sort of film tailor-made for middle-aged, middle-class couples. It's doing fabulously well, and deserves to: brilliant performances, fabulous direction, what's not to like? DRIVE, which opens this week.  What's to hate?  I hated THE KILL LIST, it got unbelievably good reviews for an unbelievably bad film.  I saw HANNA and absolutely hated it: nonsense without a story.
But with a soundtrack by Chemical Brothers?
I think that's a last ditch attempt to provide some sort of energy, into a very flat film with no story.
Do you watch any TV at the moment?
Well TV has become the new cinema.  We're all addicted now.
What are you addicted to?
I love BREAKING BAD and JUSTIFIED.
I love BREAKING BAD too; have you seen them all?
No I've just seen the first series.  I know that's when it all starts happening. JUSTIFIED is great too, and it's funny.  I like DEXTER.
What about your terrestrial TV guilty pleasures?
No, other than I'm gonna have to start in two weeks, because Nancy Dell'Olio is a great friend of mine, and she's going to be a contestant of STRICTLY COME DANCING.
Ahh, have you watched this before?
Oh no never, I've never seen Anne Widdecombe dancing, and I don't have any wish to.  So yeah, she's gonna fill me in with all the backstage stories.  That'll all be the first, never watched BIG BROTHER or any of that crap.
Right, final question before we get back to the bar.  Are you listening to any stand-up comedians at the moment?
I hate comedy.
You hate comedy?
I find it very annoying, and very seldom funny.  I hate the egotism, so I absolutely flee if anyone gets up with a microphone.  I'm petrified for the poor audience that are gonna have to listen to me tonight.  I can't think of anything worse than listening to someone talking for two hours.
So you're not gonna crack any funnies?
I have no sense of humour.
HAMISH MCALPINE'S ALL-TIME FAVOURITE FILMS
1. PERFORMANCE
2. THE SEVENTH SEAL
3. THE TENANT
4. TOKYO STORY