The Cambridge African Film Festival drew to a close last week, summing up the extraordinary work pouring out of Africa with a set of shorts from various countries on the continent (see www.cambridgeafricanfilmfestival.org.uk for more information).
The last of these was MWANSA THE GREAT – a wonderfully crowd-pleasing adventure into the heart and mind of a child, that concluded the festival with the joyous  ring of children singing.
A young boy who has the ability to transform himself into Mwansa The Great – the name his dead father used to call him – has amazing abilities, including flying, driving and fighting. But with all this power, he inadvertently breaks his sister's doll. Resolving to obtain the 'magic mud' out of which the doll was made, he sets out on the quest.
This energetic exploration and remembrance of childhood is navigated masterfully through the imagination of children. Humorous, adventurous and filled with the naiveté of a child's life, the film is not without an underlying melancholy at the reality of loss. In this way it is told as much through the children's eyes as observing them from our nostalgic adulthood, realising the passing of time.
A truly unique short film, distinctly African in every way, but a human tale to which we can all relate.
Mwansa The Great was directed by Zambian-born Rungano Nyoni, who very kindly took some time to talk to us about the making of this remarkable film: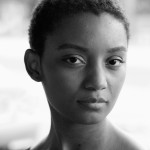 Can you tell us about what inspired you to make Mwansa The Great?
 MWANSA THE GREAT was really inspired by wanting to do a short film that reflected my childhood in Zambia. I also wanted to make a story that reflected an aspect of Zambia that people hadn't necessarily seen before. I deliberately did not want a film that focused on the typical things associated with Zambia. What inspired me mostly through my script writing process was the song that is played during the title credits. It's a song we used to dance to and children still dance to today – it means "Come, let's play! Come and play!" I played this song a million times in my head to keep me focused on the element of fun and play that I wanted to reflect in the film.
The children in the film gave incredible performances. Where did you find them? Also, have they seen the film and how did they respond?
It took more than 400 children's auditions to find Sam (Mwansa), Anna (Shula) and Lackie (Lackie). I really, really worked hard to find them and I was so lucky to come across them. Sam is quiet and self assured, Anna is naturally bossy and Lackie is just cute. I demand the same from all my actors … less pretending and more being, and the kids were no exception. I tend to cast actors that reflect the same traits as the characters. The dialogue used in the film was their own, we worked on it during rehearsals and I just asked them to roughly repeat their lines – I never show the actors the script – otherwise it becomes cheesy child acting…which hopefully they were not. The kids haven't seen it yet though…waiting to finish the festival run until I bring it back home.
You have said that you wanted the film to reflect growing up in Zambia. Has the film been shown in Zambia and what reception did it receive?
I will show it in Zambia as a coming home screening when I finish my festival round here. I wanted to raise a bit of money before I went back for Sam and Anna's education and I did not want to go back empty handed. We will have a premiere probably around April next year. I have had a few Zambians see it on this side – I got positive feedback but I am really waiting to hear what the kids say… they'll tell me if it sucks directly to my face!
This is an extraordinary film and we're excited to see more of your work in the future. Can you tell us about any upcoming projects?
I am taking a long overdue trip to Africa – various countries in Africa – Cote D'Ivoire, Senegal, Mali, Tanzania, Botswana…I have an amazing character in mind, a woman for my next story… I can't stop thinking about her so I am off for my African adventure in order to find an adventure/inspiration for my leading lady. I am really looking forward to my research trip!
It is also the final weekend of Film Africa in London, where they are exhibiting a truly amazing range of African films – go to www.filmafrica.org.uk for more information and to book tickets.