Sarah Polley's romantic drama TAKE THIS WALTZ had the potential to be a rather irritating film. Although it threatens to spill over with forced adorability for a bunch of insufferable hipsters it, crucially, never does. Polley holds it together with a sure sense of the film's tone and outlook and is helped along by an endearing performance from Michelle Williams.
Williams plays Margot, a freelance writer in Canada who encounters Daniel (Luke Kirby) while on an assignment in Nova Scotia. By (admittedly rather contrived) chance they end up next to each other on the flight home, and an attraction to, or at least fascination with, one another is immediately apparent. It transpires they live on the same street in Montreal, and over the course of the summer they steal romantic moments (although lacking in tangible physical intimacy) with one another behind the back of Margot's husband Lou (Seth Rogen), a writer of chicken cookbooks. The marital relationship seems loving but unsatisfying on some level for Margot, although her sister-in-law and best friend Geraldine (Sarah Silverman), a recovering alcoholic, serves as a reminder of the dangers of letting go of restraint.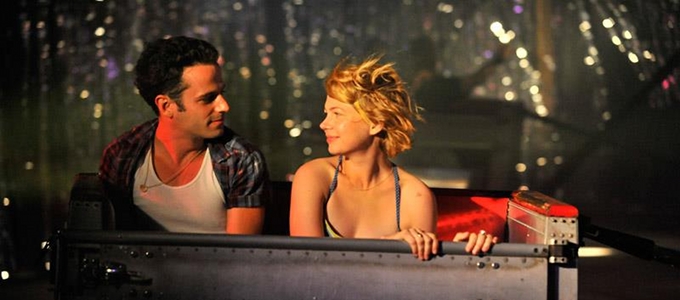 At times the film strays into tweeness […] but it never feels forced and merely helps us to understand the character dynamics.
Having adept comedians in the cast in Rogen and Silverman helps imbue the script with some light comedy. Not necessarily of the wisecracking variety, but more in the amusement two familiar people bring to a conversation. At times the film strays into tweeness, not least during scenes between Williams and Rogen, but it never feels forced and merely helps us to understand the character dynamics. Putting aside some needlessly blunt observations of the fear of being in stressful life limbo at the outset, the script keeps the thematic tones fairly understated.
Polley's script and Michelle Williams do a rather fantastic job acquiring audience acceptance for Margot's feelings, rather than stretching for full-blown sympathy and missing. With the saturated summer colours bursting off the screen, the narcotically powerful attraction between Margot and Daniel is keenly felt. Rather than trying to paint this in some sort of justfying framework, TAKE THIS WALTZ remains stand-offish. The fascination is physical and the focus on the intoxication of new romance, and the film wisely avoids depicting this as a destiny-driven dalliance for star-crossed soulmates.
Michelle Williams does a rather fantastic job of acquiring Margot audience acceptance for her feelings, rather than stretching for full-blown sympathy and missing.
In some manners, the film could form an intermediate step in a triptych comprised of Miranda July's THE FUTURE and Steve McQueen's SHAME. The former struggled miserably to elicit any form of sympathy, empathy or any other emotion from me for its self-consciously narcissistic protagonists and their insufferably twee approach to love and fulfilment. SHAME, by contrast explores the inability of a man to communciate and connect without a sexual release, never looking for understanding for Fassbender's Brandon. Somewhere in between, there lies room for TAKE THIS WALTZ – inviting us to question how much self-restraint is too little and ponder how much of a betrayal Margot's extra-marital connection is.
Margot and her contemporaries may still be too cutesy for some, but the forthright character presentation and bright imagery were more than enough to keep me (a notorious quirk-phobe) on side and appreciate the good aspects of Polley's film. TAKE THIS WALTZ didn't have me fully enraptured, but I was more than prepared for it to lead me on its melancholy dance.
httpvh://www.youtube.com/watch?v=0yPzc_REvhU