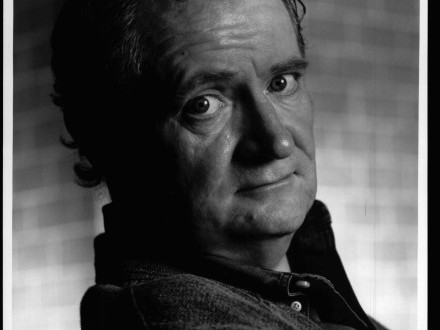 It seemed fitting that a festival which opened with one of the screenwriters for BRIDGET JONES' DIARY should close with the man who played Bridget's father. The role of middle-aged, middle-class, downtrodden but loveable Colin Jones is just one of over 100 taken on by the formidable Jim Broadbent.
Some of Broadbent's most celebrated roles are: the lead role in TOPSY-TURVY (1999) as William Gilbert of Gilbert & Sullivan, his Oscar-winning performance alongside Judi Dench in IRIS (2001), the crazed Harold Zidler in MOULIN ROUGE (2001), Denis Thatcher to Meryl Streep's Maggie Thatcher in THE IRON LADY (2011) and, most recently, as Nick in the critically acclaimed LE WEEK-END (2013).
Broadbent's broad career spans more than five decades across stage, the small screen and the silver screen; and has earned him Academy, BAFTA, Emmy and Golden Globe awards. He has worked with directors as diverse as Woody Allen, Mike Leigh and Baz Luhrmann, making him an interesting case study for students attending Watersprite 2014. Broadbent chose to contrast his experiences of working with these directors in particular to demonstrate the flexibility and diversity expected from an actor today.
Mia Farrow said that Allen was a great director but advised Broadbent not to have a baby by him.
He described working with Woody Allen on BULLETS OVER BROADWAY as a particularly exhilarating experience. He received little feedback from the director, who – according to Broadbent – knows what he wants and how to get it. And when he's got it, he moves on. When Broadbent found out about this part, he was working with Mia Farrow, who said that Allen was a great director but advised Broadbent not to have a baby by him.
Broadbent has enjoyed working with Mike Leigh on more than one occasion, and finds his approach to getting the performance he wants from actors as daunting but exciting. Leigh pulls together his actors for improvisations sessions prior to writing a script, which demands a great deal from actors at what is essentially the rehearsal stage; but ensures dialogue with depth.
Meanwhile, Baz Luhrmann works entirely differently; giving less weight to meticulous rehearsals and historical accuracy and more to his vision for the picture he is creating. To work on a dynamic musical like MOULIN ROUGE was a dream come true for Broadbent, although he appreciates it was more of a nightmare turned reality for the film's choreographer. He lamented on the brilliance of this project, which he felt missed out on the awards it deserved due to bad timing – with the less credible CHICAGO storming to victory the following year.
He is saddened by the "quirky films with subtitles" being squeezed out by profiteering multiplexes.
It all began with a choice between art and acting for Broadbent, the only things he claims to have been any good at during school. A year into an art course he decided he had made the wrong decision and enrolled at LAMDA, where he says thrived in an environment of like-minded individuals who all thought they were going to be absolutely brilliant.
However, it is clear that Broadbent's success was built on far more than the unsubstantiated confidence of a keen drama student. As he talked, he revealed himself to be a considered and careful soul who has chosen roles on their ability to challenge him and take his career in interesting directions, inspired by character acting luminaries like Paul Newman and Steve McQueen. Broadbent also enjoys travelling and so selects roles that will take him to interesting places physically, as well as emotionally.
Broadbent has never found the starrier, big-budget Hollywood productions all that attractive, preferring instead to focus on mainly European theatre and cinema and stay true to his British roots. He pointed to LE WEEK-END as a case in point of how cinematic magic can be made with a modest budget and small production team. He described how the crew of 20 moved with ease around Paris during filming, with no generators or trailers, enjoying bistro lunches in little-known local gems on a daily basis. This method of filming seemed to blend across into the finished piece, which certainly had a continental, breezy air despite dealing with heavy emotions and big life questions.
… for Broadbent, acting is all-encompassing and a job you should do out of love or not all.
For all the years Broadbent has been in the film industry, he claims that it is still as difficult as ever to get features made and distributed. He is saddened by some of the more "quirky films with subtitles" that he enjoys being increasingly squeezed out of the profiteering multiplex cinemas. Yet he takes comfort in the way that technology has made it easier for shorts to be produced, and for emerging talent to therefore find a voice and a vehicle to showcase itself.
His parting advice for young actors was to spread their net wide and look for new experiences to expand their repertoire. While understanding that obviously jobbing actors need to pay the bills, he urged them to do jobs mostly because they want to do them. As, for Broadbent, acting is all-encompassing and a job you should do out of love or not all. Broadbent looks to the quality of the script as the ultimate signpost of a great opportunity. Without that, he said, even the most skilled team will struggle to turn a film into a masterpiece. Dialogue needs to sound real in order to be engaging.  As for a favourite among the many personalities he has played, it would be too difficult to choose. Broadbent said he forms a deep relationship and connection with each character, and welcomes how they have all opened him up to different ways of thinking.
httpvh://www.youtube.com/watch?v=SxrTheKKMd8