Despite the WOES & WRONGDOINGS which they have in common, the short films in this screening offer a touch of comedy for Sunday afternoon, with a light-hearted yet sensitive consideration of the lengths to which people will go to survive in times of suffering or need.
Idiosyncratic, quirky, yet somehow utterly, heart-rendingly tragic, LOTHAR is one of those rare films that manages to combine humour with humanity, derision with despair. Following the amusing-if-it-wasn't-so-sad plight of Lothar, a young man with the strange and highly dangerous affliction of making things explode whenever he sneezes, the film wryly explores the notion of what it truly is to be lonely, without falling into depressing cliché.
UNLEADED, conversely, is about the accidental interactions of people, and what happens when disparate individuals and events by chance collide. In this comedic parody of the classic stick-'em-up petrol station robbery scene so often seen in gangster films, we are asked to consider whether one wrong can, in preventing another, make a right. As three hungry stoners unwittingly interrupt three thugs on a violent heist, the latter are forced to doubt the power of their threatening behaviour, while the former continue on their witless way regardless.
Similarly wacky yet wonderful is MY STUFFED GRANNY, a whimsical animation in which little Sofia tells the story of her Grandmother's insatiable appetite which often results in a scarcity of sustenance for herself and her father on the meagre offerings of Granny's pension. It is no tale of woe, however, relying as it does on the ever-hopeful eyes of a child and sauntering into fairytale twists at every turn. The animation is charming, funny and astutely attentive to detail without being precious – reminiscent of the genius creations of Jan Švankmajer but infused with child-like optimism and spring-like growth.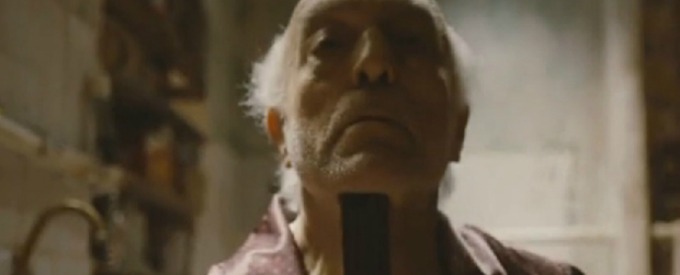 Also focusing on misbehaving octogenarians and their struggling families, FIRME USTED AQUI takes a rather darker turn, as the daughter-in-law of Grandpa Arévalo attempts to sign him over to a money-grabbing government project of assisted euthanasia for the older generation in Spain. Humour is injected into this rather dire-sounding scenario, however, with the repeated attempts of the old man himself to thwart her plans and beat her to it! An amusing meditation on a difficult subject made more complicated, as ever, by greed and money.
Another offering on the economic crisis in Spain comes in DISINTEGRATION – an artful and beautifully composed film which combines the untarnished forthrightness of a child with the aesthetically pared-down craft of films such as 2015 Oscar-winner IDA. Cheerfully foul-mouthed street child Samuel tells the story of his family's gradual destitution with matter-of-fact freshness, relating the questionable choices his parents have made at their children's expense as if they were completely justified by 'la crisis', reminding us that despite his lucidity he is still a child whose trust has been betrayed the adults who he assume know best, but that he understands that sometimes desperate times lead to desperate measures.