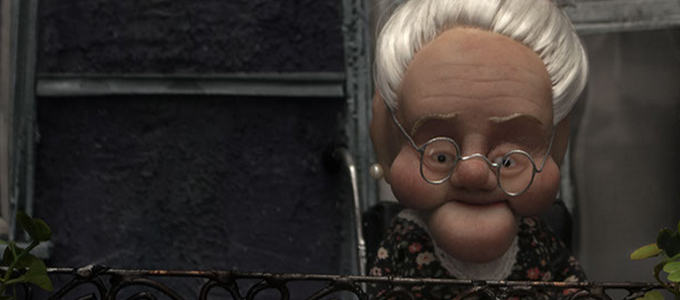 This multifarious collection of four short student films celebrate the variety and talent in German cinema today. These artful and mature films have already enjoyed showings and awards at numerous film festivals worldwide, including Cannes 2015, where LURE and HERMAN THE GERMAN were awarded the 'Next Generation Short Tiger 2015', counting them amongst the most outstanding German student shorts of up to 15 minutes. 
Together, these films evoke a spectrum of responses, from humour to dark humour to just plain dark, and are united in their appeals to the rawest elements of human experience: estrangement, desperation and our ultimate need for hope.
Under the expert tuition of Jürgen Schopper, Linda Lutz and Wunna Winter single-handedly imagined, hand-crafted, shot and edited LURE: an uneasy but gratifying watch. Lasting just four minutes, this stop-motion animated short wastes no time in developing engaging characters: a plump, chirpy boy and a wheelchair-using elderly lady who are united only in their mutual loneliness, and their interest in a yapping orange dog. But things quickly get creepy. The intentionally choppy cuts, absence of dialogue and increasingly shifty characters deviate from the lines of Pixar's sweet inter-generational story UP, and escort the viewer somewhere quite unexpected, but well worth visiting. A similarly intriguing film is Damien Schipporeit's 10-minute short THE OLD MAN AND THE CAT about a lonely octogenarian who celebrates his birthday with fantasised figures of affection: a cat and a beautiful young neighbour. Tender musical notes and sepia-infused images paint a moving picture of the old man's dreamy escapisms, until the harmonious tale starts to dissipate to fully unveil the elder's delusions – as well as, potentially, our own as idle viewers. An effortlessly touching film about life, loss and loneliness, it is curiously optimistic.
Perhaps a happy ending, in films as in reality, is not always guaranteed.
Michael Binz's quirky HERMAN THE GERMAN follows his acclaimed short THE STORYTELLER, which won the 'Next Generation Short Tiger' at last year's Cannes. Appropriately for a German director who may be on his way to competing with the big boys in filmmaking, this fictional comedy satirises both German and Hollywood clichés. It tells the dramatic story of a Schnitzeltorte-loving German, Herman Heimlich (Gustav Peter Wöhler), who temporarily abandons his bomb defusal profession and embarks on a mission to cure himself of the rare Kahnawake syndrome (the inability to experience fear). Packed with explosions (of sausages) and impossible tasks (choosing between Schnitzel sauces), HERMAN THE GERMAN  takes strides in stamping out the stereotypes of both the humourless German and his country's lugubrious cinematic style.
Most memorable in the set is Patrick Vollrath's ALLES WIRD GUT ('Everything Will Be Okay'), which is gripping from beginning to end and haunting long after its wrenching climax. The story begins with a seemingly humdrum day out shared by a divorced father (Simon Schwarz) and his eight-year-old daughter (Julia Pointner), but just when you start to ask yourself how this everyday narrative could possibly be characterised as a thriller, the film warps in unimaginable directions. The mantra "everything will be okay" is repeated throughout the film, as it is throughout our own lives, yet with an increasingly apparent emptiness of meaning. Perhaps a happy ending, in films as in reality, is not always guaranteed. When everything is not okay, we can expect only brutally honest sentiments.
Most of us enjoy few opportunities to experience shorts, particularly those that manage to scale the full range of human emotions, and this idiosyncratic collection acclaims their untapped merit.
See the GERMAN SHORTS on 6 September at 15.oo at APH
httpvh://youtu.be/cWw8lH_lBaM