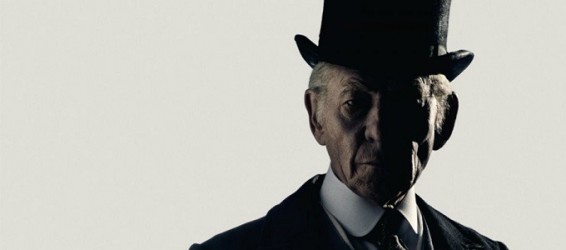 Did we really need a faux biopic of Sherlock Holmes in retirement? This question, which introduces Times film critic Kate Muir's review of MR HOLMES, encapsulates most of the articles you'll read about Bill Condon's latest reincarnation of the great detective. It is a justified question. Why would anyone want to see this much-admired mastermind in his old age, grappling with failing memory and dodderiness? Well, perhaps because we have become saturated by the hundreds of adaptations of Sherlock Holmes (226 according to IMDb) since he was first penned by Sir Arthur Conan Doyle in 1886, and perhaps because we consequently share the eponymous nonagenarian of MR HOLMES' ambition to decipher, at last, the man behind the layers of myth that have enveloped him.
Particularly now, in a world that may be characterised as mass-produced and hyper-mediatised, it seems that authenticity and especially the human element have acquired a new appeal. In a script faithfully adapted by Jeffrey Hatcher from the 2005 novel by Mitch Cullin, A Slight Trick of the Mind, it is refreshing to see literature's most celebrated sleuth and cinema's most filmed fictional personage in a new light, in a new location and in a new (ageing) body. Following in the footsteps of Christian Bale's Batman (who put the human back into superhuman) and Daniel Craig's emphatically fallible Bond, veteran actor Sir Ian McKellen plays this overly familiar character unrecognisably. In the twilight to his life, Holmes ceases to be larger than life and becomes, at last, identifiable but nevertheless exceptional in his newfound vulnerability.
It is 1947. Holmes is 93 and precariously close to his final hour. Far from busy Baker Street and without his famous accoutrements of deerstalker and pipe, he is now living out his dotage in retirement in coastal Sussex under the care of his discontented housekeeper Mrs Munro (Laura Linney) and her brilliant son Roger (Milo Parker). It is wonderful to witness an uncomfortably Watson-less Holmes spark a heart-warming bond with this child prodigy (a future genius detective, no doubt) who must be around eighty years his junior. This rare glimpse of an intergenerational friendship on screen is characteristic of the forward-thinking plot underpinning this retrospective film. Punctuated by flashbacks representing the clues fast escaping Holmes' crumbling memory, he strives desperately to solve – or re-solve – his last case.
It's really time to retire, Sherlock. So states the title to the Times review and an anticipation of fatality does loom over the film. Ushered in by the high-angle opening shot of the tall white smoke trails from the train carrying a decrepit Holmes, it is brought full circle by the film's denouement, where we look down once more from the clouds at this same Holmes kneeling reverentially at his makeshift graveyard. Yet it is his old younger self who is metaphorically laid to rest here, as Mr Holmes finally accepts with grace the limits to logic.