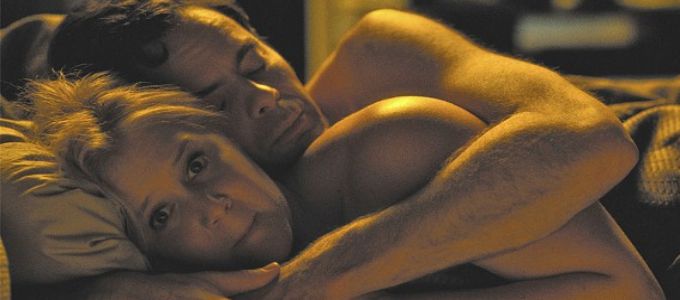 TRAINWRECK's audience promptly find themselves looking up at a film showing a woman in her underwear making out with a guy and talking dirty. But this film could not be more different from others of its ilk. "Don't judge me, f***ers!" pipes up Amy's acerbic voiceover in defence of her selfishness in bed, reminding us that this is Amy's own story and overtly directing us to suspend all preconceptions influenced by hackneyed plotlines about a guy and a girl (or virgin or whore).
Written by and starring straight-talking comedian Amy Schumer, TRAINWRECK is partly autobiographical, which is why in her feature debut she slips so seamlessly into the role of Amy Townsend: lads' mag journalist, semi-alcoholic and serial commitment-phobe. Despite having had it drilled into her at a young age by her romantically cynical father (Colin Quinn) that "monogamy isn't realistic" and still living by this credo 23 years later, Amy's seemingly idyllic bachelorette world is rumbled when she starts to fall for dreamy-goofy sports doctor Aaron (Bill Hader), the subject of her latest S'Nuff Mag article.
Director Judd Apatow had already worked with such sexually liberated, ballsy and unmodelesque starlets before as Katherine Heigl (KNOCKED UP's leading lady) and Rebel Wilson (Brynn in BRIDESMAIDS, AKA PITCH PERFECT's Fat Amy), but never were they as relatable and entire-audience-laughing-out-loud funny as Amy is here. Amy is not the type of girl who faints at the sight of blood: she vomits orange-green gunk onto the window of the operating room in front of an adorable, shocked Aaron, which also seems to be this film's response to pre-Apatow rom-coms. In the offensively phrased but well-meaning words of her editor boss Dianna, an unrecognizable Tilda Swinton, average Joe Amy is just what the media industry needs: "You're clever but you're not too brainy. You're pretty-ish and you're not gorgeous. You're approachable."
"TRAINWRECK capsizes clichéd gender roles…"
Surprisingly for a Hollywoodian rom-com, TRAINWRECK is shot entirely on soon-to-be-extinct 35mm film, imbuing it with a very human, homemade quality, as Amy tells her palpably intimate and unglossy story to a mainstream audience. Some of the lines sound like they are lifted directly from her stand-up and her own smart and refreshing voice is at times only lightly masked by the co-actors speaking her words. Admittedly, not all of TRAINWRECK's ambitious string of gags are successful and its plot could be tighter, but this film packs an impressive range of emotions, from side-splitting hilarity to profoundly moving and yes, even tear-jerking sequences.
TRAINWRECK capsizes clichéd gender roles so prevalent in films as much as in society. Most of the women featured are hard as nails and the toughest-looking guys are the biggest softies. Amy never calls her one-night-stands back, to her horror Aaron is big on spooning, and 6 ft 8" basketball legend LeBron James plays a Downton Abbey-loving version of himself in an overly protective bromantic relationship with her beau. The film also goes one step further and muses – light-heartedly – on attitudes to race, homophobia and inequality in the US. These subversions and treatments of wider issues are for comedic effect and do not aspire to anything more, but nor did you expect them to.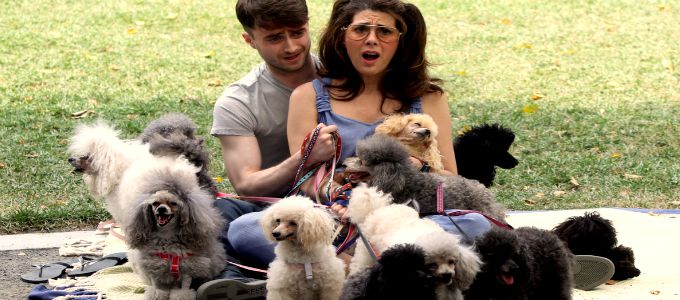 With its playful references to classic and indie love films, from TITANIC to its own painfully scripted film-within-a-film THE DOGWALKER (starring Daniel Radcliffe and Marisa Tomei), TRAINWRECK self-consciously tears up the conventionally fluffy romance film script – and yet some viewers may feel let down to witness a seeming return to it in a gooey happy ending. We find Amy yet again lying on her back with a guy on top of her, making out. But this time it is her boyfriend Aaron who she is so crazy about that she has just face-slammed the ground after attempting to score a post-cheerleading routine basketball hoop (it's a long story). An epic fail, this climax is not a sell out to conformity, but an extension of Amy's own initial instructions (to avoid judging her) to include all women, even bouncy cheerleaders and girls head-over-heels for a single guy, as she herself finally practises what she preached. In her ability to shape-shift between different "two-dimensional" roles for women, Amy establishes herself as a more complex, three-dimensional character who eschews binary categorization into fixed female moulds. She continues to assert her independence and quirkiness, even as she settles down and grows up.
Despite featuring as a trainwreck of a person, you cannot help but join Aaron in falling in love with Amy, and if like most people you are hungry for more Schumer, you might like to check out her trailblazing, Emmy-nominated stand-up online. Just avoid judging this film by its wreckage of a trailer.
httpvh://youtu.be/2MxnhBPoIx4