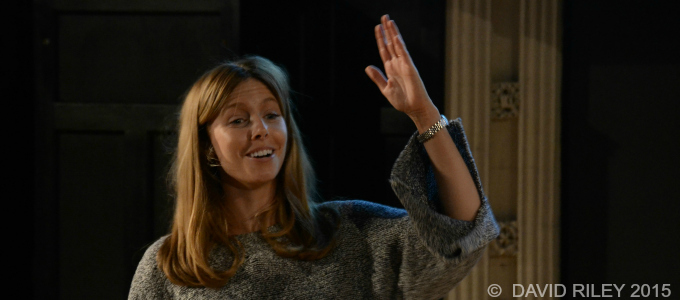 One of the most unconventional philosophies comes from NASA: "prepare for the worst, and enjoy every minute of it". Making a documentary practices this philosophy at its very core. Not long ago, documentaries might have been thought of as dry, heavy going and frankly, boring. This is no longer the case. Over the last couple of decades, the line between filmmaking and investigative journalism has blurred and created a breed of filmmakers who are on the front line of the action, delivering fresh and thrilling content on a cinematic scale, enticing audiences far and wide.
This year at Watersprite, the Cambridge International Student Film Festival, saw some amazing investigative journalists and filmmakers talk about their experiences out in the field, producing some of the most cutting edge documentaries of our time. The beautiful Divinity School at St John's College was host to two of the most exciting talks of the festival.
Together, these three filmmakers have tasted the danger zones in their own way.
The first talk was titled, 'So You Want to Make a Documentary'. It featured multi-BAFTA winning documentary maker Jezza Neumann, writer and director Orlando von Einsiedel (who was nominated for an Oscar and a BAFTA this year) and Anna Hall, who has produced and directed films for television for 16 years in a wide range of settings. The talk was headed up by Anne Morrison, chair of BAFTA. Collectively, they have travelled to some of the world's most difficult locations, from Afghanistan to Tibet to the African Congo. They have documented groundbreaking topics such as China's oppression in Tibet in Neumann's UNDERCOVER IN TIBET, and its 'One Child Policy' in CHINA'S STOLEN CHILDREN. They have found enjoyment in a world of despair in von Einsiedel's 'SKATEISTAN: TO LIVE AND SKATE KABUL' about a girl who escapes the reality of living in a war zone by skateboarding. They have shown that groundbreaking doesn't have to mean travelling halfway around the world, sometimes it's about looking much closer to home, as we see in Anna Hall's Dispatches episode, BRITAIN'S SEX GANGS.
So if you're a filmmaker, where do you start when it comes to making a documentary?
The featured panelists gave some incredible advice drawn from their own experiences. "I started by making investigations," Orlando tells us. "I often worked in African countries, and in most of those films I focused on bad people doing bad things; but the more I did it, the more I kept coming across these really inspirational people. You can make a documentary on anything, but it's always useful to think about stories from a slightly different angle, especially when it comes down to getting them funded".
Even back home, it's always important to look for the edge in the story that will clinch a funding deal and even more importantly, an audience. Anna Hall's first series was a 6 part documentary for Channel 4 in 1997 about the last all-female college in Oxford, from where she graduated. She talks about the importance of acquiring access and it being the key to unlocking great content. "Very early on in my career I was able to gain access to very personal content, I was able to do this because I had a very good relationship with my tutors from when I was a student."
"When I got there, it was very much a case of working it out as I went along"
Without a doubt, if you're able to get hold of the right stories it can make all the difference to your documentary. You can do this by just talking to people and knowing who to talk to, something else that Anna advises.
The world of documentary making is an unpredictable one and there is an element of being able to roll with the punches and be flexible, something that Jezza Nuemann knows all about. He tells the audience that on his documentary for the BBC's, ZIMBABWE'S FORGOTTEN CHILDREN, it was essential to think on your feet – "When I got there, it was very much a case of working it out as I went along".
However, let's not forget what these filmmakers have been up against. Whilst they're uncovering stories they are also putting themselves and their crew at risk. This is why planning and research is a must, Jezza advises. But it's not just you and your crew that you have to protect, you also have to consider what happens to the participants that are braving it by being involved; "The whole process of protecting contributors and yourself comes into what we call a 'security protocol' and it's something you have to draw up. For the Zimbabwe shoot it was a 67 page document, and for China it was a similar amount."
This protocol is all about doing your homework on where you're going and who you're speaking to; "the first time I had to do this, I had to draw up hypothetical situations where I had to imagine every hypothetical scenario possible and how I would get out of it and I thought really? But what happens is, because you've gone through it with people who have been in similar circumstances, it sets your mind working and it became very real for us."
"You don't know how bad things are until you actually see it…"
The next compelling talk included danger zone veterans Stacey Dooley, Seyi Rhodes and BAFTA winner documentary maker Brian Woods. Known for their work as presenters and investigative journalists on such works as BLOOD, SWEAT AND T SHIRTS, UNREPORTED WORLD and DISPATCHES, they have reported gripping stories from the most hostile environments. Covering strictly anti-journalist political marches, being robbed at gunpoint and running alongside the army in a drug bust for the Cartel, they have truly worked on the front line of  journalism. "You don't know how bad things are until you actually see it…" comments Seyi Rhodes, when reflecting on the extremely frightening situations he has had to work in. Like the previous three panelists, he too had to think about the people he has met and shared their lives with him: "their fear is your fear, you become so close to the people you work with."
Whilst they have all witnessed brutality, BBC presenter and journalist, Stacey Dooley said she focused on the people and that was the key to her success to delivering her stories. "You have to go to the source and meet the people to gain the human aspect – you have to act quickly"
Making a documentary now is very different to what it used to be, and both of these talks showcased some of the fresh blood that's being pumped into the industry. These bright new journalist filmmakers have been able to reach out to a brand new audience, an audience who would normally 'see what else is on'. They're gripping the minds of our disinterested youth and educating them in a way they understand. So if these guys are anything to go by, the future of documentary making is set to be an exciting one.
httpvh://vimeo.com/25401759