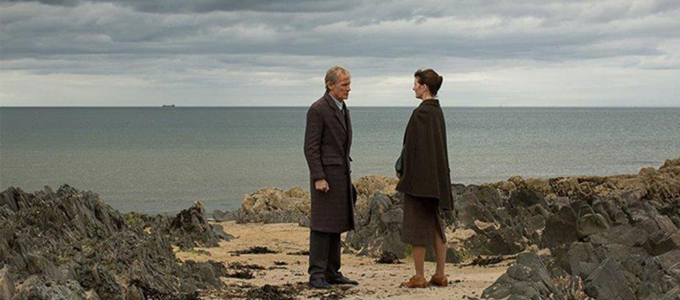 Film directors who might be characterised as 'not from around these parts' have often brought an original perspective to supposedly quintessential, keep-your-hands-off English subjects. Ang Lee (SENSE AND SENSIBILITY), Douglas McGrath (EMMA) and Patricia Rozema (MANSFIELD PARK) all squeezed fresh juice out of their Jane Austen adaptations, while for the dark English underbelly of homicidal locals menacing unwary outsiders, look no further than John Landis's AN AMERICAN WEREWOLF IN LONDON or Sam Peckinpah's STRAW DOGS. But as seen by the Spanish director Isabel Coixet in her adaptation of Penelope Fitzgerald's novel, the hostile resistance shown to Florence Green (Emily Mortimer) as she arrives in late 1950s Suffolk to open the bookshop of the title, is in a different league of subtle malevolence.
Welcoming her with open arms (many of which turn out to conceal a back-stabbing stiletto), the inhabitants of the small town of Hardborough seem at first agreeable that Florence should add tone to the neighbourhood, renovating a big derelict house on the high street with the help of some wolf-cubs who are remarkably adept at DIY. She stocks the shop with cutting-edge fiction and poetry of the time  by Kingsley Amis, Philip Larkin and Ray Bradbury, whose FAHRENHEIT 451 comes to the attention of the reclusive bibliophile Edmund Brundish (Bill Nighy) as he broods alone, Miss Havisham-style, supposedly still in mourning for his wife – who, local legend has it, died in a drowning accident.
Florence herself has been grieving for her dead husband for sixteen years, but despite the misgivings of her buttoned-up bank manager and solicitor, she is determined to make a life-affirming go of the bookshop, which starts to thrive. This is largely due to the patronage of Brundish and to local curiosity; and soon Florence can afford to take on Christine, a schoolgirl assistant (Honor Kneafsey) and risk the gamble of ordering 250 copies of the current publishing sensation, Nabokov's LOLITA.
This is both the last straw for reactionary Hardborough, and the opportunity needed by Violet Gamart (Patricia Clarkson) the lady of the manor and a character halfway between Cruella de Vil and Ambridge's Linda Snell. Gamart has long harboured nebulous plans to open an Arts Centre in the house now occupied by Florence's bookshop, and uses her MP nephew (in an unlikely plot development) to force through Parliament a bill allowing the compulsory purchase of derelict properties. Helped by Milo North (James Lance), a louche BBC producer, Gamart steps up the pressure on Florence to close, despite the loyal and eventually tragic efforts of Edmund Brundish.
It's been suggested that THE BOOKSHOP is just another entry in the post-war 'Heritage Cinema' category, to be filed alongside the likes of DUNKIRK and DARKEST HOUR; but while the heart sinks at Julie Christie's CALL THE MIDWIFE-type voice-overs, it's soon clear that Isabel Coixet is playing a less sentimental and more complicated game. Despite the almost cartoon-like set-pieces (the genteel opening soiree chez Gamart, where Florence sticks out like a sore red thumb; and the Orwellian nightmare of a school inspector's visit) there's real feeling in the developing relationship between Florence and Brundish, a complex character well played by Nighy. The lowering grey seascapes and sombre marshland grasses (shot by Jean-Claude Larrieu in Northern Ireland rather than Suffolk) also contribute to the threatening sense that Florence is battling forces she's finally powerless to resist.
But there's still the literature. Luscious scenes of new books being unboxed and shelved or wrapped up for delivery punctuate the action, the implied wonders and freedoms the books contain in stark contrast to all the small-minded Hardborough politicking. It's no accident that Florence presses Christine to read A HIGH WIND IN JAMAICA, and the final scenes of THE BOOKSHOP suggest the girl has taken the loss of childhood innocence and simultaneous empowerment in Richard Hughes's novel to heart, to devastating and lasting effect.