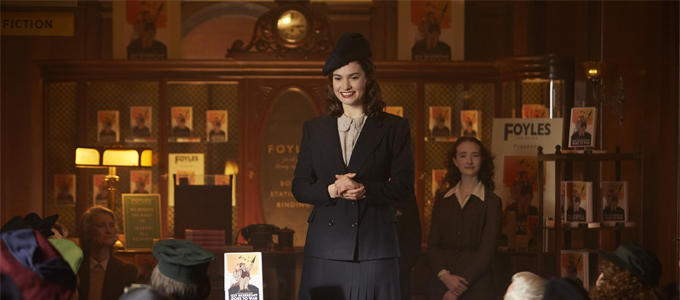 Finding romance amid the Nazi ravages of World War 2 is nothing new in the movies, but Guernsey is a long way from Casablanca in every sense. Audiences will have certain expectations of a film which is advertised as 'From the Producers of THE BEST EXOTIC MARIGOLD HOTEL', and they won't be disappointed by crotchety but lovable Tom Courtenay as Guernsey's postmaster Eben Ramsay or Penelope Wilton's Amelia Maugery, brittle and mysterious and a fellow-founder of the literary society (whose resemblance to THE NO.1 LADIES' DETECTIVE AGENCY is either charming or annoying, according to taste).
It's to address the Society that Juliet Ashton (Lily James) comes after the war. As the feted 'Izzy Bickerstaff', a successful author of commercial demob-happy froth, Juliet is dissatisfied with her champagne and West End nightclub lifestyle and wants to write something deeper and truer to what it means to be a writer. She's contacted by Guernsey pig-farmer Dawsey Adams (Michiel Huisman), another member of the Society, who's been inspired to read by Juliet's previous championing of Lamb's Tales from Shakespeare.
Impulsively interrupting her planned book tour, Juliet sets off for the Channel Islands, to the chagrin of not only her long-suffering yet twinkly agent, and gay best friend, Sidney Stark (Matthew Goode) – but also her rich American boyfriend Mark Reynolds (Glen Powell). Mark is given to festooning Juliet's flat with bunches of roses, and just as she's about to board the ferry for Guernsey, he goes down on one knee and presents Juliet with an egregiously flashy engagement ring, which may have the spectators on the quayside applauding but can only set off alarm bells for the audience.
From here, cliche runs neck-and-neck with mystery, as Juliet inches her way towards the truth about the Literary Society and its dealings with the Nazi invaders. In particular, we begin to wonder what happened to Amelia's missing daughter Elizabeth McKenna. and why her own flaxen-haired child Kit calls Dawsey Adams 'Daddy'? Gradually, Juliet is seduced by both the handsome Dawsey's gruff sincerity (echoes here of FAR FROM THE MADDING CROWD'S Gabriel Oak, though that's as close as the analogy gets) and Guernsey's rugged and beautiful landscape. The actual shooting locations were Devon and Cornwall, filming on Guernsey itself having been ruled out 'for logistical reasons'.
Somehow, this ersatz note sums up the entire two-hour venture, with its will-they/won't-they false romantic endings lengthening the running-time, once the frankly unsurprising Nazi-collaboration secret is revealed. Despite battling against their limited characters, Mike Newell's cast give strong performances, especially Katherine Parkinson as Isola Pribby, the Society's tipsy spinster and gin-making mystic, and Kit Connor as young Eli Ramsey. All deserve better, given the current taste for lavishly-costumed and shot World War 2 stories – last year's THEIR FINEST showed what could be done, giving an original slant to highly familiar trappings.
At the end of Juliet/Izzy's long journey, on the quayside at Weymouth the romantic scene from earlier is (almost) replicated. A neat trick would have seen exactly the same ferry passengers as before applauding this latest development. But that would have been too ironic – by this time, sugar is well and truly off the ration.