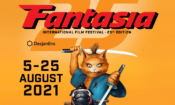 Perry Blackshear's WHEN I CONSUME YOU leads its viewership down a winding tunnel of despair and depravity – making the horrors bubbling under the surface expected but still unrelentingly devastating. The darkest products of the characters' realities take a more sinister form, and Blackshear's twists are gut punches to the heart and soul.
Siblings Daphne (Libby Ewing) and Wilson (Evan Dumouchel) have spent most of their lives running from childhood pains, with fresh sores opening along the way. Daphne has spent many of her adult years battling drug addiction and trying to correct a record that is holding her back from adoption. Wilson struggles deeply with his mental health while chasing dreams of working with children that personal circumstances and an undesirable resumé push further into the distance. When Daphne realises she is in extreme danger from a forbidding stalker, she must rely on her older brother – who she has always had to protect.
Blackshear delivers another ethereal slow burner, from earlier features THE SIREN, and THEY LOOK LIKE PEOPLE – his latest addition to the horror genre also includes a collaboration with Dumouchel and MacLeod Andrews (who plays the role of sinister entity haunting the tormented brother and sister). Blackshear is no stranger to experimenting with narratives; those familiar with his other feature films will be aware of the interpretative formats in his filmography. However, WHEN I CONSUME YOU goes much deeper into the social-psychological realm than many horrors surrounding demonology try to do.
There are a lot of layers to Blackshear's feature, and it can be dizzying at first. Still, as the narrative collects itself in the middle of the film, it becomes much clearer how the writing mirrors the script's social and spiritual aspects and how they connect. What is also interesting is the gradual awareness that the events on screen are through the eyes of Wilson, who, like the character of Wyatt in THEY LOOK LIKE PEOPLE, is an unreliable narrator. But, whether or not MacLeod Andrews's character of the sinister stalker is Wilson's fantasy – that gives him a direct answer for him and his sister's misfortune – or a solution to his own recovery, doesn't take anything away from the chilling and foreboding tones in Blackshear's mysterious tale.
The play on genres is also cleverly written; it almost seems as if character arcs spark and conduct the changes to the film's journey through different aesthetics – moving through dark family drama elements, to supernatural chills, to finish on a unique spin on revenge horror. WHEN I CONSUME YOU seems less interested in rehashing traditional presentations of genre, and the revenge side of the film is less invested in violence and more in Wilson's inner struggle with the changes to his character – much like Jeremy Saulnier's BLUE RUIN. Unlike many horror features, it is easy to become very attached to Daphne and Wilson. Their characters are thoroughly developed, and the moment when you see Daphne explode with cathartic rage after being consistently calm and collected, or when Wilson moves from crippling anxiety to a frenzied determination for revenge, you feel like you are watching real human beings on screen, which is not something that always comes through as boldly as it does in this film.
Perry Blackshear's experimental writing paid off with WHEN I CONSUME YOU, and it definitely seems to be a film that can be watched again and reveal a different subtext. This feature will operate predominantly through the interpretation of audiences, an enigmatic and harrowing tale of two siblings, adjacent to the brutal realism of the New York City docks and the fantastical horrors that blend into the dreary background.