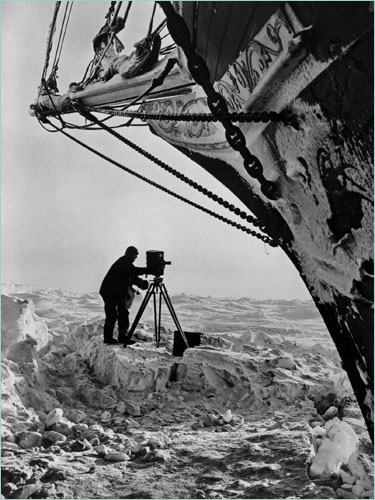 Polar exploration is a costly business, and it was as much for fiscal reasons as for posterity that Shackleton hired photographer Frank Hurley to accompany him on his trans-antarctic adventure. Hurley was in later years criticised for manipulating his images for dramatic effect, but the grandeur of the Antarctic could never, and need never, be augmented by human imagination. Their ship, the Endurance, was caught fast in the grip of the pack. Hurley's simple footage of the magnificent ship subdued, crumpling in the fist of the ice, is deeply moving.
Composer and pianist Neil Brand provided live, improvised accompaniment for the film. The bizarre and hugely varied sounds made by constantly shifting ice really require a fully stocked BBC sound effects kit. However, Neil Brand conveyed wonderfully the otherworldliness of the terrain with grim, ocean-deep low notes and flowing streams of urgency; and also created spontaneous and charming leitmotifs for nature's not-so-silent comedians, the dog and the penguin.
Hurley abandoned his cine-camera with the wrecked ship, and where the real adventure starts, the documentation continues in stills. These last few images are at least as powerful as the live footage – particularly the rescue ship viewed from Elephant Island. However, the story soon gives way to crowd-pleasing vignettes featuring grumpy sea elephants and busy bird-life. Shackleton may have failed in his original intention to cross Antarctica, but his crew of 28 men survived flabbergasting hardships, and with Frank Hurley's help he succeeds in astounding us all nearly one hundred years on.