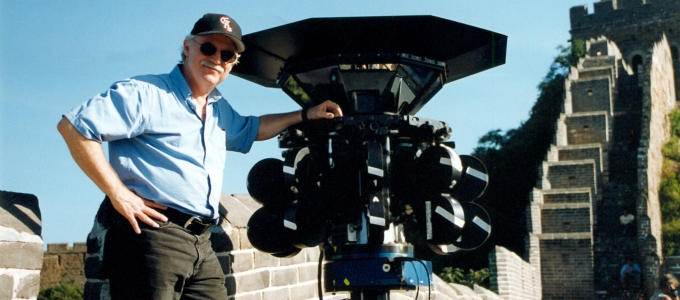 The memorable opening sequence from THE SHINING, with the camera snaking through the air above trees and a mountain lake, was shot by Jeff Blyth, a photographer and director with over 40 years' experience in Hollywood. With the recent re-release of Stanley Kubrick's seminal horror, we caught up with him to find out how he got started in his career, and just how tricky it was to capture the right footage for the notoriously perfectionist director.
Gavin Midgley: How did you get in to the business of being a cameraman? What attracted you to it in the first place?
Jeff Blyth: I've been a filmmaker since I got my first camera around the age of 12. It's really all I've ever done. That means I've had to perform all tasks on a film at one time or another which I've always thought was the best way to learn how to direct. You can't give meaningful directions to a full crew if you don't have a good understanding of everyone's jobs and responsibilities. In my early career in Michigan, I'd made films for training, sales, education, medicine, corporate – you name it. But I'd also made films for myself in my spare time, dramatic or funny pieces for competitions and generally to keep stretching creatively. After getting a BA in TV, Radio and Film, I travelled extensively and lived in West Africa for a couple of years. This early introduction to life overseas has been an invaluable shaping experience for me as a person as well as a filmmaker.

GM: How did the work on THE SHINING come about?
JB: When I moved out to California in the mid-70s, the general consensus was that I was going to have to pick one particular department and stick with it but this was very hard to do as a filmmaker who has enjoyed all aspects of production. My first job was as Production Manager for MacGillivray-Freeman Films of Laguna Beach on an IMAX film for the Smithsonian Air and Space Museum, "TO FLY." We were a very small crew so I ended up wearing several hats on that show, including building space ship models for the ending sequence (all pre-computers). While I was with that company we did commercials, short films, and second unit for features. Jim Freeman, who did all of the company's helicopter photography, was tragically killed while scouting locations for a Kodak commercial and that stopped all work for nearly a half year. When we started back up again, I did much of the helicopter photography, adding one more hat to my collection. It was at this time that we were asked to work on THE SHINING.
GM: What was the brief? Did you communicate directly with Kubrick himself?
JB: Our contact with Stanley Kubrick was extremely limited; just one conference call to get us started. He mostly filled us in on the current work of a British second unit that was shooting ground shots in Glacier National Park in Montana as well as at the Timberline Lodge on Mt. Hood in Oregon. We moved our small crew up to the St. Mary's Lodge outside of Glacier and taxied up a Los Angeles-based helicopter that we put on a long term deal. Our helicopter set-up included a specially-built rig (created by Nelson Tyler) slung under the length of the helicopter with two 35mm Arriflexes on a plate that I could remotely tilt up and down from the passenger seat. I also had a small black and white TV camera between them that gave me a general picture of what the film cameras were seeing.
We were in Glacier for the better part of a month, September into October. When we arrived the trees had not yet started to turn but we began shooting helicopter shots very quickly to try to find out what Kubrick wanted. Our arrangement was that we would send undeveloped film direct to England, so we never saw any of our dailies except for the very small black and white video monitor that I had in my lap while I was lining up shots.

GM: How much freedom did you have in shooting footage for the opening sequence? Were you able to improvise much?
JB: We had been told we could do any shots we wanted as long as it was the VW headed up into the mountains. We never got any specific feedback on our work, other than to keep doing what we were doing. It's with great amusement that I've read online reports that Kubrick somehow accomplished these shots by some sort of radio remote control while still in England!
There were no specifics asked for other than the VW had to be yellow with Colorado license plates. The one thing that had been discussed, however, was that the VW makes two trips. The first involved Jack Torrance going up alone to the Overlook Hotel for his job interview and that was what we were to shoot. His second trip was to include his family and the VW would be hauling a small two-wheel trailer with their personal effects. This part of it wasn't our concern as our helicopter shots were intended only for the opening sequence, the first trip. The British second unit was supposed to be handling the second trip scenes and they would all be ground-based. They were also shooting background plates for interior car scenes.
For the next month I worked out a variety of shots and locations within the park. We were not allowed to ever land within the park and that made for some awkward moments to hover a few feet off the ground while Greg MacGillivray would hop out of the VW (he was driving) to clean off the camera's lenses. We scooped up lots of bugs at that time of year so we had to do this frequently. We had a bunch of these locations and routines that we could film depending on the time of day and the weather conditions. Good afternoon light, for example, would send us deeper into the park where we had rehearsed various shots. Good calm morning air meant we could try our shots on the lower reaches of the Going To The Sun Road or over St. Mary's Lake.
"If a gust of wind caused our helicopter to briefly yaw, that was a ruined take and we'd have to start over…"
It was at this time that Duane Williams, the helicopter pilot, and I came up with the idea of following the car from right off its rear bumper and then have the car go one way and we fly straight on. We had to pull off these shots without benefit of traffic control so we would only try them when we could see other vehicles weren't around. We did not want to suddenly scare some other vehicle off the road or into an accident. During these shots, the helicopter rotor blades extended well out over the roof of the VW. Because we attempted these shots based mainly on weather conditions (especially calm air), it was somewhat hit and miss with regards to light and shadow. When flying that close to a car, I had my hands full guiding the helicopter pilot in closer and closer based on the little black and white monitor (which the pilot could not see). Since we shipped footage out unseen, we relied on the editorial team to sort out which takes they liked. We were shooting full aperture but I had scribe lines on my monitor for the 1:1.85 cropping that we knew would be used in the theater. We were shooting with very wide angle lenses, which tend to help smooth out the motion of the helicopter but they also mean you have to get that much closer to your subject to fill the frame. These were in the days long before gyro-stabilized mounts. If a gust of wind caused our helicopter to briefly yaw, that was a ruined take and we'd have to start over.

GM: Are there any shots you were particularly pleased with?
JB: Towards the end of our shoot we were suddenly blessed with some lovely fall colours as well as very calm air in the mornings. We rushed out and shot the same scenes we had rehearsed so often and much of that footage is what made the final cut. It was not until we saw the finished film at a Warner Brothers screening that we realized Kubrick threw out the whole notion of the Torrances towing a trailer behind the VW with their personal effects in favor of more helicopter shots to represent the second trip. By the way, the scene of the arrival at the Overlook Hotel, the one with helicopter rotor blades clearly visible, was not filmed by our unit.
GM: What did you think about Kubrick's decisions on which footage to use in the finished product?
JB: There was one particular shot that I felt sure would make it into the final film but didn't. The camera starts high, dropping down through trees and revealing a bend in a river. The yellow VW pops out of the trees heading along the shoreline and the helicopter tracks in on him, getting closer and closer, until we move up over the roadway and fall in right behind him. We could only fly a short distance before we had to veer off suddenly back over the river and end the shot as the trees closed in around us and it was too narrow to keep following the car. We set up that shot and rehearsed it over and over and shot at least a dozen takes that we sent to Kubrick. Each time the helicopter veered off just as we approached the trees and we went off over the river.
"We were clipping small branches on both sides until the pilot could slowly climb us up out of there…"
As usual during shots like this, I was watching the monitor in my lap very closely to help guide the framing. On our final pass I'm watching as we get right up to the VW and then suddenly I'm seeing trees flying past us on both sides. We'd gone right straight up the road instead of veering off! We were clipping small branches on both sides until the pilot could slowly climb us up out of there. Safely out of the canyon of trees, Duane said he just felt like maybe he could get in there to extend the shot. He didn't bother to tell me what he was going to do! We later heard that Kubrick and company were as startled watching dailies as I was.
GM: What happened after THE SHINING? What are you up to these days?
JB: In the years since, I've gone off on my own and continued making films of all kinds. I directed a feature for Disney in Africa, and wrote, produced and directed several films for Disney theme parks. I created "Wonders of China," a 9-camera, 360˚ Circle-Vision production for EPCOT Center in Florida that was filmed on locations throughout all of China. This particular film was seen by over 100 million visitors in the 20 years it played in just that one theater. I've since been back to China many times and also filmed the updated production, "Reflections of China" that plays there now. Another Circle-Vision production of mine played at Le Visionarium at the opening of Disneyland Paris. I've recently written an adaptation of a young adult book for a film I hope to direct next summer.
One of Jeff's most recent projects was VFX work on FROSTBITE, a proof of concept trailer for a feature film in pre-production by Glass Cannon View the trailer below.
httpvh://youtu.be/RqLSO2VTZco