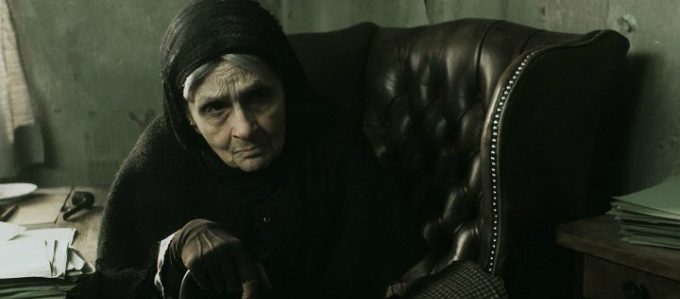 The TO ACCOMMODATE collection is described as "films about innovative filmmaking". This could imply a rather challenging set of work. Nevertheless, this compilation of short films from different parts of Europe showed the great talent of some aspiring filmmakers.

HOLLOW DATE, by Alexander Tuschinski, is a short and snappy study of German student dating norms. In contrast, WHEN THE EAST SUDDENLY LIES LIKE THE WEST, by Ki Bun, is the most difficult film in this compilation. It shows the troubles of former GDR citizens to fit into the West. MAGIC LAMP by Dino Kazamia shows a mysterious sale made in a dark English pub, and MÄRCHEN by Kondo Reiko is a colourful and very inventive interpretation of several fairytales, well fittingly edited together. During the journey to her grandmother's house, a pretty girl meets German and English fairytale creatures. The well directed film works great visually and shows a great sense of humor. An interesting stylistic device here is the use of text like in a silent film, stitched on linen cloth, which often has a comic quality to it.
… The expensively produced and well directed piece is a landmark in terms of cinematography …
THE PUB by Joseph Pierce is a dark and very well executed rotoscope animation, which shows a working night in a pub from the barmaid's eyes. Rotoscopy is a form of animation in which the artist paints over real film to create a cartoon like effect. This is done in a dream like fashion which turns the bar's guests into horrid creatures of the night. A must see for fans of animation and hallucinogenic films.
THE OLD WOMAN by Ariane Mayer is a fantastic new take on the Orwellian subject of 1984. The German short film shows a dark time in which poetry is forbidden by the state. The world the citizens live in is a poor one and many have to turn to drinking. In this world, an aspiring writer refuses to bow to the government's restrictions and decides to write a book. But then everything goes wrong as a mysterious old woman appears. The expensively produced and well directed piece is a landmark in terms of cinematography. The story takes the audience in and is thrilling through in terms of plot as well as visual means.
TO ACCOMMODATE is a well-chosen compilation of films, maybe with the exception of WHEN THE EAST…which seems to interrupt the entertainment's flow. It is essential for aspiring filmmakers to visit the short film compilations, in order to give directors like these the necessary support to make more great work like this.
THE PUB – Trailer from Joseph Pierce on Vimeo.