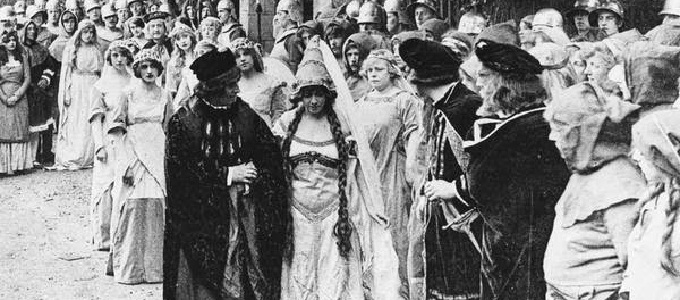 Anthony Davis spoke to composer Laura Rossi about her experience writing music for BFI Silent Film JANE SHORE (1915), currently touring the UK.
The project was commissioned by the Ealing Classic Cinema Club, in collaboration with the BFI; which led to a tour of the restoration, with Rossi and the Orchestra Celeste's quartet of skilled interpreters playing live.
Laura Rossi: When the Classic Cinema Club commissioned me to score the film, we decided it would be good to try and find a silent film made at Ealing Studios. I approached Bryony Dixon at the BFI, who dug out a few films for me to view in a BFI basement room on an old Steenbeck machine. I was taught how to use the machine and change the reels. It was a very magical day watching reels of footage filmed over a hundred years ago. JANE SHORE seemed the perfect fit – a film made at Ealing Studios by the studio founder Will Barker. So, the BFI made a specially restored digital print of the tinted version of the film for this Centenary tour which really looks stunning. We were lucky enough to then secure a grant from PRS Women Make Music for the commission and first performance, and an Arts Council grant to help fund the tour.
Watching a silent film with live music is such magical experience and can be enjoyed on many levels. The music is needed to engage you with the film, and also to help make it more watchable for an audience today (who are often used to watching fast paced action with multiple effects and music filling our senses). The music also fills the auditorium giving a 4 dimensional experience. It's not just about watching the film, but also being transported back to this era, and it's fascinating to see how people acted for films 100 years ago with some very exaggerated gestures as we see in this film. Before the screening at the BFI, NFT, I had been fortunate enough to have a chance to listen to the score, and it worked wonderfully on its own – but even better in performance, with, of course, the wonderful BFI restoration of the film, and important information from the inter-titles!
"you get to really feel a bit of that magic when music and film and audiences connect…"
AJD: I believe that you have written for other films from the so-called Silent Era. Please tell me a little more about where this one fits in, and where you hope to go next with writing for film.
LR: I personally think all the best film music stands up on its own as a great piece of music. Take Ennio Morricone, Bernard Hermann, Nino Rota or John Williams – all their music works wonderfully as a piece of music without the pictures. Yet when played with the film it adds another dimension and an important element, unique to each film it's written for, which greatly adds to the meaning and feeling of each scene. I have scored quite a lot of silent films and they are harder work than scoring a feature film, which usually has shorter cues that flow in and out of scenes. In silent films the music is often needed to help tell the story, or in the case of this film, to add emotion and help you engage with the film, and draw you into the narrative.
I love writing music and especially love the magic of adding music to picture and making the picture come alive, or adding depth and meaning or emotion to a scene. I really enjoy the variety of working on a range of projects: I've just scored a couple of feature films which will be out later this year, and also have a commission for a concert piece for children's choir and orchestra.
I really enjoy the collaborative and creative process of working on a new film and being part of a team, but I equally enjoy the free rein of writing music for silent films, where you can artistically decide the best way to interpret the images, to help people connect with the film, and be inspired directly from the images rather than the directors vision. I also enjoy performing the music live, as you get to really feel a bit of that magic when music and film and audiences connect.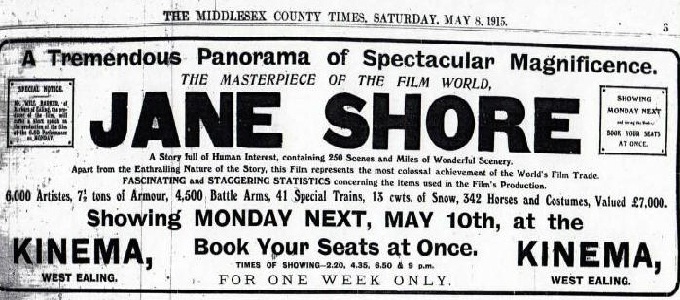 AJD: As was evident in the screening, you have chosen to use motivic material in a way that makes it not a leitmotif as such, because it relates not to individuals, but to these repeated patterns of behaviour. Whether or not that was quite an instinctive way of composing for this film, please tell us a little more about how you responded to the film and decided on your approach.
LR: The main thing I wanted the music to do was to help you engage with the film and draw you into the film, so you are emerged in the world of the film and also to help connect the many changing scenes together. The plot is quite complicated and there are six main characters of almost equal importance, so you end up not really empathising with them, so the main thing I wanted the music to do was to help add emotion, so you feel for, in particular, Jane in the film, who is portrayed as a good hearted character who pines for her original lover William Shore. This is not historically true – she actually divorced him on the grounds that he was impotent! There are various themes that return at particular moments – you can really play on peoples emotions by using returning themes, as the audience will feel a certain way because they've heard the music before, so it helps connect you with particular moments in the film, and in doing so, helps tell the story.
AJD: Orchestra Celeste is, as well as you on piano, Sophie Langdon on electric violin, Mike Outram on acoustic and electric guitars and glockenspiel, and Bozidar Vokotic on cello. A fascinating group of players, very accomplished in their own right in performance and an assemblage of instruments that, on paper, some might be surprised by, but which works very well.
LR: I wanted to create a sound world that combined acoustic and electronic instruments for this film. It just felt right – it's a very ambitious film and quite advanced for 1915, so I really wanted the music to add to this and give a modern edge to help audiences 100 years on connect with it. At the same time, I wanted to still use quite traditional methods with motifs and melodies so the music connects with what is happening on the screen and to help engage you with the story.
"The Cello is such an emotive instrument, and perfect for those darker moments in the film…"
I also wanted the music to help add to the epic feel of the film, and even though there are only 4 of us playing, it's a big sound and really fills the auditorium, so you feel emerged in the world of the film. Piano and Acoustic Guitar work so well for a range of textures and emotions; as well as having the connotations with traditional silent film accompaniments. Electric Guitar and Electric Violin give the music a certain edge, especially when this is combined with the electronic track I have created. The Cello is such an emotive instrument, and perfect at creating the right atmosphere for those darker moments in the film, and setting the scene for romantic brooding love and revenge.
AJD: And what is the role of the glockenspiel?
LR: It adds an element of magic and brightness needed for particular moments and to contrast with some of the very dark moods in the film.
 AJD: At least in part, your score seems folk inspired. 

LR: I composed the score at times in a kind of minimalistic way to engage you with the film. Too many themes would make the already busy film feel disjointed, but equally music that is too monotonous would have made the film feel long and boring. It was more important to make the music engaging and help drive the action forward with its insistent rhythms and arpeggiated figures, which kind of hypnotise you into the action and help make it flow.
I am a big fan of melodies, and I think melodic themes helps you identify with particular themes or characters and really helps give you the correct emotion. We needed to amplify the music to make the balance between the acoustic and electric instruments so they blend and also to make the music feel bigger and stronger and fill the auditorium.
AJD: How has your relationship to the film or the score changed in the course of the tour?
LR: Each time I watch this film I spot something new and I enjoy the experience of watching and performing it more each time. The great thing about having an 8 date tour, is our performance has developed, and we have added more expression and depth to the performances, as we have learned to connect with the images and with each other. I have also discovered more about the film through this tour from audience members – including some funny stories from when it was made.
The music and film has had an incredibly positive response from audiences, many of whom had never been to a silent film before. It has been so much fun to score and perform this film score, and it feels very special that we have helped bring back to life an old forgotten silent film that was just sitting in the archive. Watching it with live music feels like stepping back in time. Helping to transport people back to a different era by engaging with them through music and film is a unique thing to be part of. I hope we can also record the soundtrack for a DVD release..
Whilst playing the music I go through waves of consciousness and have moments where I connect with certain musicians, and other moments where I feel strongly connected to the film or the audience, but the magic always happens in the moments where all these elements feel connected together: the film, the music and the audience.
AJD: Thank you so much, Laura, and we look forward to hearing news of your new writing for film !
There are no remaining tour dates for JANE SHORE but Laura hopes to have one future performance in the British Silent Film Festival in Leicester in September. 
httpvh://youtu.be/ssYLbvKpMsQ