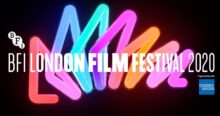 Every year, the BFI London Film Festival showcases some of the year's best in LGBTQ+ filmmaking, and the 2020 shorts programme is no exception. Alongside the big feature-length hitters such as SUPERNOVA and AMMONITE, this year's festival offers a wealth of fantastic queer shorts, encompassing everything from homoeroticism on a badminton court, to experimental representations of privilege.
LGBTQ+ cinema as a whole can often over-focus on queer suffering, but the 2020programme includes plenty of uplifting films – something which can often feel like a rarity. DUNGAREES is a perfect example, offering a five-minute snapshot of queer happiness. Blake, a gay trans man, has finally found security within his body – something which his cis boyfriend, Cane, doesn't quite understand. Positive communication alleviates this issue, neatly representing the strength of their relationship. Alongside a couple of comedic moments and some heartwarming bonding with Blake's sister, DUNGAREES is a glimpse into the queer everyday. With its abundance of charm, this little film is an instant mood-booster, reminding oneself of the innocence of young love, and the understanding we can find within each other.
THE NAME OF THE SON also elects to trade tragedy for hope. Lucho, a trans boy, travels to the beach with his father and younger sister. Throughout their time there, Lucho appears distanced and clearly upset, which worries his family. Breaking the tradition of familial rejection that appears in many queer stories, Lucho's father is sensitive and careful when discussing his son's gender. When Lucho finally reveals that his distress is due to his period, his father does not quite know what to say. But as his son hugs him tightly, their love for each other is evident; though his father may not quite understand, Lucho knows he can always confide in his loved ones, and that the support of his family will accompany him always.
Looking at the intersection between race and class, BUCK explores the issues of mental health, drugs, sex and HIV status through the experiences of Lynn, a young Black man who suffers from depression. Lynn attempts to find human connection at a chemsex party but is visibly uncomfortable when he tries to have sex with strangers. Unflinching and candid, BUCK never shies away from the difficulties that many gay men may experience within the chemsex community. In tackling stigmatised subjects with a concentration on individual emotions, directors Jovan James and Elegance Bratton display these pressures as more than just intra-community habits, instead looking at the reasons for and complications within the practice of chemsex. Equally, the film demonstrates the love found within a group of people who connect through these experiences and their commonalities as gay men of colour.
A lone narrator muses on diversity and social hierarchies in TRUTH AND KINSHIP, an experimental short shot in various locations across London. Through the lives of three young people, director Gaby Sahhar observes the contrast between extreme wealth and extreme poverty that exists within the city. A white male protagonist, his privilege symbolised by his expensive suit, explores his sexual identity whilst maintaining his status within the heteronormative mainstream, often at the expense of others. TRUTH AND KINSHIP is a poetic, striking analysis of an issue that permeates modern city living.
For pure silly comedy, you can't find much better than SHUTTLECOCK and its over-zealous badminton champion, Carl. Carl trains daily, eats meat for every meal, brags about his prowess with the shuttlecock and breezes past his opponents (in the local charity badminton tournament). But Carl is in for a surprise when new boy Morgan Silk arrives and takes his crown, elegantly dispatching the rest of the team with the grace and poise of a ballet dancer. Morgan is everything Carl isn't. Skinny, effeminate and irritatingly attractive, Morgan is not only a threat to Carl's crown, but he is also a threat to his harmful gender ideals. With brilliantly tongue-in-cheek humour, SHUTTLECOCK takes homoeroticism to its comedic extreme, sending up the ridiculous notions of masculinity that pervade the world of men's sports.
Another common theme of this year's festival is the often complicated nature of gender. PANTHERS fits this theme perfectly, illustrating the complexity of teenage identity through two thirteen-year-old friends, Nina and Joana. Over the course of a few days in their lives, Joana navigates her understanding of her blossoming sexual identity, quietly supported by her best friend. PANTHERS takes a broad look at this ever-relevant subject, never quite settling on an answer to Joana's questioning of her own identity. This open-ended approach demonstrates the perplexing nature of gender – sometimes, there is no answer, and that's just fine.
DOWN THERE THE SEAFOLK LIVE, meanwhile, is a meditation on music and gender expressed through interviews with trans musicians. Each interviewee has a different approach to their identity, but they have one thing in common: an appreciation for the way that their music enables them to understand and channel their gender. Alongside this commentary, the interviews delve into other issues that frequent the lives of these people, from struggles with fetishisation to the sometimes difficult choice whether or not to medically transition. Through this honest look at trans identity, DOWN THERE THE SEAFOLK LIVE invites important discussions on the role that art plays within queer self-acceptance.
My personal favourite of this year's shorts programme, MOTHER is a twenty-one-minute documentary which records the daily lives of vogue performers in Rio de Janeiro, and a short which exudes joyful energy. At its heart, MOTHER is a story about familial bonds: a common theme within queer cinema. The dancers emphasise the role of their House – a collective of artists – and the ways that they have formed a family stronger than any blood relationship. Within vogue culture, each House has a Mother (and sometimes a Father) who will lead that House as the head of the family. Protected by this supportive structure, queer artists otherwise rejected by a hetero-cisnormative society find the community that they deserve. A powerful display of vulnerability, MOTHER is a heartwarming demonstration of the human need to love and be loved.