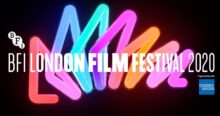 Bassam Tariq's feature fiction debut is a wonderful showcase for Riz Ahmed's versatility as a performer and an engaging explosion of energy about heritage, identity, and the clashing cultural expression of both.
Riz Ahmed plays Zed, a British-Pakistani rapper on the cusp of success in the USA and his first world tour. At the suggestion of his girlfriend, he returns to London to spend time with his family before the tour begins. After some testy conversations with friends and family about his work and his reverence for his roots, an autoimmune muscle illness strikes down Zed. It threatens his career, causing him to reflect on his expression of identity and his place in his home.
The centrepiece of Tariq's film is Ahmed himself, and his multi-faceted talent is the primary reason MOGUL MOWGLI is engaging. There are several sections of Zed performing his material, with the lyrics rooted in his British-Pakistani heritage and Britain's reaction to it (the tracks themselves are present on Ahmed's recent album). These are powerfully intense both lyrically and in performance (indeed, the delivery of Where You From outstrips the recorded studio version). Ahmed commits fully to these scenes, and the electric punchiness of the delivery embodies the crisis developing in Zed's head extremely well.
Visually, however, Tariq also heightens the emotions that Ahmed exemplifies. As Zed is delivered news of his illness, Tariq's framing of Zed and blocking of the scene highlight his vulnerability and isolation at that moment. How he shoots the concert scenes shows that, though the lyrics are the personal and internal reflections of Zed, audiences consume them nevertheless. They are an outward expression and reflection of the community he has arguably left behind at the film's opening, and the visuals reinforce these elements with skill.
Zed's disease pointedly "has a hereditary component", and whilst that can seem like heavy-handed symbolism when put in tandem with the conversations with friends and a family about reverence for his roots a touchy one about shortening his name from Zahir to Zed proves to be memorable. The many different angles of this personal crisis are seen clearly in Tariq and Ahmed's story. The fact that communities themselves often disagree on how to look for each other and express themselves it put across neatly and succinctly during an exchange between Zed and a fan about handing things to people with your left hand (typically considered unclean, and thus rude, in Islamic communities). It proves to be an instigating event, after which Zed's body and mind seem to attack him, and he begins to churn over an identity crisis.
MOGUL MOWGLI deserves credit for striking a balance between being enlightening for viewers without pre-existing knowledge of the South Asian cultural references and the story flowing nonetheless. The most prominent elements are the repeated references to Toba Tek Singh. The Pakistani Punjab city has been the inspiration for several artistic works, including a track by the name on Riz Ahmed's album The Long Goodbye, a short story, and a short film. A city named for the Sikh figure Tek Singh, much of its Sikh population moved to India as part of the 1947 partition. The short story by Saadat Hasan Manto (adapted into a short film by Ketan Mehta) focuses on a man whose hometown identity no longer fits in the country in which he can live. Here, the hallucination that personifies 'Toba Tek Singh' represents an identity being pulled apart by the society Zed inhabits. He's not Muslim or Pakistani enough for his family, and yet he is othered by broader British and American culture. Just as the protagonist of Saadat Hasan Manto's story, he is caught in a no man's land. Even in Zed's outlet for expression, the film declines to give him peace and depicts a rap battle where a Black rapper castigates him for cultural appropriation.
That MOGUL MOWGLI finds room for all of this and still makes compelling sense as a story is an achievement. In the final scenes of the film, amidst more of those specific cultural references, Tariq has constructed a connection to the struggle Ahmed has depicted. MOGUL MOWGLI is a universally relatable film but with distinctive and unapologetic cultural character.