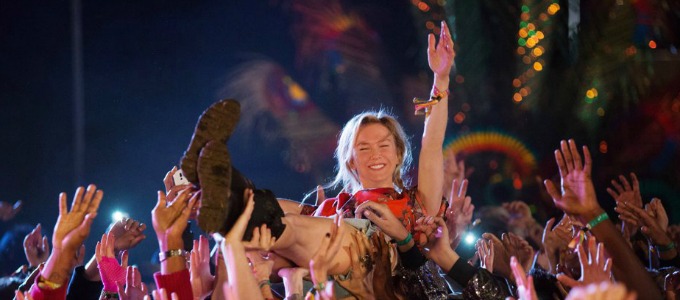 There's that unforgettable scene in the first BRIDGET JONES'S DIARY film from way back in 2001 where a bashful Darcy (Colin Firth) tells Bridget (Renée Zellweger) he likes her, very much. She mocks him: "Ah, apart from the drinking, and the smoking, and the vulgar mother, and the verbal diarrhea…". He interrupts: "No, I like you. Very much. Just as you are". Two films and over a decade later, we reunite with a very different Bridget. So why is she still so likeable?
Let's sidestep for a moment the overzealous media frenzy aimed at Zellweger's own real-life (or is it?) face. In the latest filmic instalment of the franchise started by then columnist Helen Fielding in 1995, BRIDGET JONES'S BABY, our Bridget has had her own makeover. Now a respected TV news producer, she's never looked better thanks to Nutri Bullets and Soul Cycle-esque classes; she's quit smoking (1,891 days ago, she proudly tells us at one point) – and she's even replaced her handwritten diary with an iPad. But she remains real: a woman in her 40s who refreshingly looks like it, she still cracks us up with her klutzy charm, and of course she still eats Pringle's and birthday cakes for one.
This time, Fielding teams up with Oscar-winning screenwriter Emma Thompson and Sacha Baron Cohen's frequent collaborator Dan Mazer for this far sassier script than 2004's THE EDGE OF REASON. At last, Bridget has been allowed to grow and to grow up. It's as though the writers – although perhaps not some of the more nostalgic film critics – have clocked that female leads can still be relatable without being perennially stuck in a dead-end relationship with their bodies, career and love interests. This 2016 Bridget speaks to everyone who graduates from cads like Daniel Cleaver (Hugh Grant) and comes to find happiness in single life or healthier relationships, everyone who learns to up their self-esteem through self-development rather than through their partner, and to every woman whose pregnancy test experience deviates considerably from a Clear Blue ad.
Director Sharon Maguire allows us a rare glimpse of a middle-aged female lead in a blockbuster film enjoying casual sex and having a baby out of wedlock – and all guilt-free.
We've seen Bridget walk away from womanising Daniel Cleaver in the past. We learn now that since we last caught up she has also ditched a workaholic Mark Darcy. No longer lusting after love, Bridget is committed to her career, her well-being and her friends. How far she has come from the insecure woman whose biggest fear was famously "dying alone and being found three weeks later half-eaten by Alsatians". So it comes as a surprise when she finds herself unexpectedly expecting and wooed by two newly eligible suitors: her dashing old flame, Mark Darcy, and her shiny, new American, Jack Qwant (Patrick Dempsey). As Firth tells VANITY FAIR: "Mark didn't think Daniel was better than him. This guy Jack seems to be more of the charming good guy, and in some ways that's scarier". Darcy is the old prince charming: a smouldering lawyer. Jack embodies the new dream bachelor: a hipster billionaire entrepreneur. Either could be the baby's father. Both are crazy about Bridget. But who's the daddy?
Of course, finding love and settling down doesn't have to be every woman's happy ending. Today's mainstream audiences are probably ready for mature silver screen treatments of abortions, single parenthood and non-nuclear families. But Bridget has still come a long way since her conception 20 years ago, or even as long as 200 years if we trace her right back to her original blueprint as PRIDE AND PREJUDICE's Elizabeth Bennett. Now director Sharon Maguire allows us a rare glimpse of a middle-aged female lead in a blockbuster film enjoying casual sex and having a baby out of wedlock – and all guilt-free.
Amidst the MAMMA-MIA!-style paternity plot and belly laugh-inducing gags, we still recognise the original "Sex and the City" girl. Still prone to blunders but now with more self-esteem, Bridge is both familiar and fresh. And it's great to have her back.
httpvh://youtu.be/xMk21lZczk4