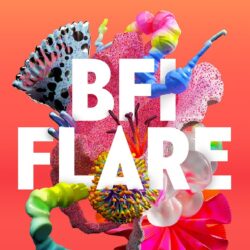 Director Bretten Hannam's road-movie meets queer coming-of-age film offers an established and delicate exploration of sexuality and heritage.
Link (Phillip Lewitski), a Mi'kmaw two-spirit teenager finds out that his mother, who he had been made to believe was dead, is alive. Following an explosive outburst from his abusive father, Link embarks on a journey with his younger half-brother, Travis (Avery Winters-Anthony) to find her.
Not far into their travels, they come across Pasmay (Joshua Odjick), pow wow dancer and fellow Mi'kmaw teen, who lends a hand and ends up joining them. Pasmay, deeply connected to his lineage, tries to teach an initially reluctant Link some of the Mi'kmaq language. As their odyssey unfolds, they share tales of hardship and become closer as they embark further through Eastern Canada.
Link starts to rediscover his heritage, with the help of Pasmay and the ongoing quest to find his mother. The more self-aware and connected Link becomes to his surroundings and his own sexuality the easier it is for him to cultivate a relationship with Pasmay, but after years of developing a mistrust for others, Link struggles to let his guard down completely.
Hannam not only captures Link's emotional progression throughout the film but also the possibilities that lay in front of all three of them. There's a sense of hopefulness to WILDHOOD in Guy Godfree's beautiful cinematography that encapsulates the rural Canadian landscape and in the uplifting soundtrack that moves with these characters as they push forward and towards change. Although they may never be able to shake off their pasts, they become each other's family.
Hannam's previous films NORTH MOUNTAIN, and short film, WILDFIRE (on which WILDHOOD is based) also have a strong focus on communities, culture, and two-spirit and LGBTQIA+ identities. A two-spirit L'nu filmmaker living in Nova Scotia, Hannam is able to capture the lives of their characters so effectively and approaches the storytelling with a delicacy that comes from such a close relationship with the narrative and the characters.
Even in the heavily explored road movie genre, Hannam is able to breathe fresh life into it, offering it up as a story of queerness, nature and homecoming. They have taken a simplistic narrative and made it substantial and meaningful.